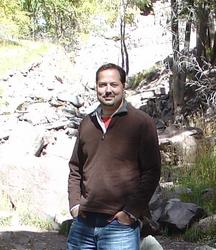 It's been thrilling to hear the news -- I'm so thankful that Foreclosure.com put this together
Boca Raton, Fla. (Vocus) February 18, 2010
The results are in.
More than 1,000 current and/or college-bound students nationwide answered the call during the 2009 Foreclosure.com Scholarship Program, submitting essays of 1,000 words or more on 'How to Solve the Foreclosure Crisis.'
Andrew Dewar, a senior at Kennesaw State University located in Kennesaw, Ga., however, was voted to the head of the class by our panel of judges, winning the $5,000 top prize.
"It's been thrilling to hear the news -- I'm so thankful that Foreclosure.com put this together," said Andrew, a former business owner and new father of a one-year-old baby girl, Avery. "I have some personal experience with [foreclosure]. So this was just a natural extension of trying to solve my own mini housing crisis.
"This is tremendous -- it's so generous," he continued. "Being an adult student and father, there are a lot of costs that come with going back to school … there is a lot at stake. So the $5,000 will pay for at least an entire semester at Kennesaw State. It's huge."
The program, which ran from Sept. 1 to Dec. 31, 2009, also awarded four $1,000 scholarships to the contest semifinalists:

Mark Cantora a law student at Hofstra University School of Law in Hempstead, New York
Kelly Kinkade from Oakland University in Rochester, Michigan
Elizabeth Panella from the Tufts University in Medford, Massachusetts
Luke Paulsen from Princeton University in Princeton, New Jersey
In addition to the five cash prizes in the form of scholarships, totaling $9,000, these plans will be sent to Congress and to President Barack Obama himself as soon as possible.
"The suggestions that were laid out in the essays were well thought out and I would hope that Congress and President Obama will take notice," said Foreclosure.com Director of Education, Linda Yates. "This crisis will affect the next generation so it is important to get their fresh perspectives on such an important issue."
To read Andrew's winning essay, as well as the others from our four semifinalists, please visit the Foreclosure.com scholarship page right here: http://www.foreclosure.com/scholarship
In addition to all the students who responded, Foreclosure.com would like to acknowledge the esteemed panel of judges who selected the five finalists:
Jeanette Francis, Ph.D., Lynn University
Kermit Lind, J.D., Cleveland-Marshall College of Law
Susan Wachter, University of Pennsylvania
Michael Kraten, PH.D., CPA, Sawyer Business School at Suffolk University
Maureen Kraten MBA, CMC, Sacred Heart University
"We were extremely impressed with the variety of ideas and concepts submitted by all the students," said Luanne Bryant, who coordinated the scholarship effort for Foreclosure.com. "From the far-fetched to the exceptionally insightful, we received the full gamut of solutions to the foreclosure crisis. Based on the success of this program, we will attempt to find other ways to keep it alive in 2010 and beyond for the benefit of college students, and struggling homeowners, throughout the nation."
About Foreclosure.com Education and Linda Yates:
Linda Yates develops and leads the real estate training division on behalf of Foreclosure.com. From global Web seminars to nationwide onsite workshops and boot camps, she implements the educational programs that help investors and first-time homebuyers thrive in today's real estate market. She uses basic logic, core principles and years of experience to help others achieve the American dream first and foremost at Foreclosure.com -- the largest and most accurate searchable database of foreclosed homes and investment property information in the nation. More than 1.8 million foreclosure, preforeclosure, bankruptcy/Chapter 11, FSBO and tax lien listings are featured in the company's industry-leading database.
On the Web:
http://www.Foreclosure.com
http://www.Twitter.com/foreclosure_com
http://www.facebook.com/Foreclosurecom
Media Contact:
Thomas Myers
Foreclosure.com
Tel: (561) 981-5337 ext. 7381
###