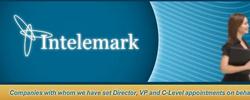 Intelemark is incredibly fortunate to be able to attract an industry veteran like Carrie Monterio to lead our expansion in the northeast.
Phoenix, AZ (PRWEB) February 25, 2010
Due to steady growth in the Northeastern US, Intelemark is pleased to announce the opening of a new sales office in the greater Boston region and the hiring of veteran sales professional Carrie Monterio. Carrie brings to Intelemark years of experience in the areas of demand generation, lead generation and appointment setting. Heading Intelemark's new East Coast office, Carrie will focus on client acquisition and account management in New England and the greater Tri-State area. Carrie will be providing Intelemark with a presence in the region as well as lending her expertise to assist both current and prospective clients with their complex calling requirements.
Intelemark is also excited to announce the promotion of long time staff member Janelle Chavez to the business development team, working out of Intelemark's corporate office in Phoenix, AZ. Janelle's many years of experience will provide prospective clients with a great resource as they evaluate their options for outsourced appointment setting and lead generation.
Why Intelemark?

The Intelemark has been in business for over 13 years providing outstanding revenue opportunities for companies that range in size from Fortune 100 to start up ventures and everything in between.
The Intelemark business model is to be an outsourced inside sales team providing qualified appointments that the outside sales team can close.
Intelemark has a BIG PICTURE mentality with the ultimate goal of providing revenue opportunities, not just appointments!
Intelemark's agents are highly qualified and experienced. Intelemark understands that "first impressions" are critical and it is crucial to convey a positive image of each respective client. All agents are located within the United States and Canada.
Each Intelemark Production Manager is highly competent and experienced, and acts as the liaison between the client, the agent and the company. They are dedicated to the success of each respective campaign.
Intelemark has developed a proprietary software application designed to manage agents and data. The software allows for in-depth data analysis, enables daily reporting and on-demand reporting.
Every account is treated as if it is Intelemark's only account. The progress of each campaign is closely monitored in order to provide optimum results.
Intelemark customizes each campaign based on the specific goals of the client. Companies come to Intelemark because we know "qualified."
Social Media
Intelemark finds communication crucial in being successful. In order to better communication, Intelemark maintains these outlets to better connect with agents, clients, and prospective clients.
Blog : http://intelemark.wordpress.com/
Twitter : http://twitter.com/Intelemark
Facebook : http://www.facebook.com/pages/Intelemark/131961884490?ref=ts
Youtube: http://www.youtube.com/watch?v=qCpiLz9kDhw