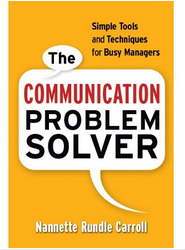 Dr. Tony Alessandra: "You must read this book to conquer communication concerns once and for all."
San Francisco, CA (PRWEB) February 18, 2010
The Communication Problem Solver–Simple Tools and Techniques for Busy Managers (AMACOM) was rated one of the best business books of the year by "The CEO Refresher," an international online site for executives. They say, "This no-nonsense guide is packed with practical tools to help any manager be immediately effective."
The Communication Problem Solver helps managers distinguish themselves as magnetic, inspirational leaders. The book shows how to prevent fumbled tasks and increase employee engagement through clear, collaborative communication. When the inevitable people problems do occur, the manager can follow practical action steps to solve them. How managers communicate, daily, affects their ultimate career success and that of their groups.
Compelling communication drives the bottom-line results that managers must achieve. Inspirational leaders build solid collaborative relationships and credibility, which reap results through staff, peers, and their own bosses.
Small Biz Digest says author Nannette Rundle Carroll, "shares her unique approach to standing out as a leader of collaboration, establishing a reputation as the person people want to work with, and delivering exceptional bottom-line results. As she demonstrates, the key to communicating like a pro is integrating a commitment to building and strengthening relationships with winning processes."
Managers can boost their effectiveness by integrating Delegation, Feedback, and Coaching processes to get their expectations met. The book shows how.
"Most communications problems track to differences in expectations," writes syndicated columnist Jim Pawlak in Biz Books. "This book includes a 'Clarifying Expectations Worksheet' which prepares managers for Carroll's four-step, communication-improvement process. The Communication Problem Solver details the most common workplace people problems. Then—using its communication techniques—walks the reader through how to solve them."
One common workplace problem—a showstopper, actually—is judging and assigning negative labels. Labeling colleagues with "He's Dr. Jekyll and Mr. Hyde" or "She's lazy" blocks problem solving and generates needless tension throughout the team. The Communication Problem Solver examines many such judgments and walks the reader through how to get to the root cause. The book also shows how to break the judging habit. Managers then can deal directly in facts, which lead quickly to lasting solutions and long-term results.
Communication practices that succeed must be extremely appealing, collaborative, and effective in attracting employee buy-in to the work at hand. Managers must convey messages with laser-focused clarity and listen with acuity. The Communication Problem Solver shows how to drive commitment and results through action steps and real stories.
"From botched tasks to derailed projects to clashes between employees, nearly everything that aggravates managers stems from a failure to communicate. The Communication Problem Solver tackles this important element of management, with a focus on improving the clarity of communication, and on using it to avert crises and build relationships," according to WebCPA-Tools and Resources for the Electronic Accountant.
In their endorsements of this book, communication experts raved about its value. Dr. Tony Alessandra says, "You must read this book to conquer communication concerns once and for all. (It) is content-rich with how-tos and step-by step processes that you can apply immediately. It is bursting with stories of real managers wrestling with actual situations." Sam Horn says, "It's packed with specific suggestions on how to turn conflict into successes and how to avoid future problems." Jim Cathcart wrote, "This book will show you, easily and practically, just how to change problems into successes and how to avoid future communication problems. Keep it handy every day."
The Communication Problem Solver has appeared on worldwide websites ranging from executive and financial to and financial, project management, and imaging executives.
Title: THE COMMUNICATION PROBLEM SOLVER
Simple Tools and Techniques for Busy Managers
ISBN: 978-0-8144-1308-1
Price: U.S. $18.95 Paperback
For a review copy, call AMACOM Books at 212-903-7951 or fax 212-903-8083.
Find book covers and author photos online at http://www.communicate2go.com
ABOUT THE AUTHOR
Nannette Rundle Carroll is a popular speaker, management trainer, and communications consultant. She is also a top-rated faculty member with the American Management Association. She lives in the San Francisco Bay Area, California.
Contact: Nannette Rundle Carroll
925-947-1917 U.S.A. nannette(at)communicate2go(dot)com
###