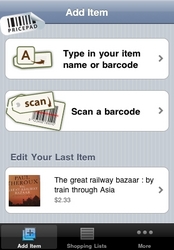 Shoppers use PricePad, which has been downloaded over 100,000 times, to build and organize shopping lists for any product they want to save money on.
Vancouver, BC (PRWEB) February 18, 2010
Blue Ring Mobile is pleased to announce the release of PricePad 2.0, an easy-to-use deal-finding app with barcode scanning technology for the iPhone and the iPod Touch.
PricePad users find the best deals while shopping around retail locations by quickly and accurately scanning product barcodes using the built-in (iPhone 3GS) camera, and comparing their prices against online stores (with Google Product Search or PricePad Search). Users save money by having information from the web at their fingertips and waiting until they find the right deals for him or her. They save even more from stores with price guarantees that match the best prices online. At the introductory price of $1.99, PricePad users should see a return on their investment many times over.
PricePad works just as well for items without a barcode. Shoppers can quickly type and add the product name to their shopping list with the option to also store a product photo. The user interface is simple and lets user capture the important details with a few flicks. For each item, the shopping list editor lets user remember the on-sale prices from different merchants and track them over time. Shoppers can conveniently share great deal finds on for instance, clothing accessories or shoes, by emailing sales info and item photo to friends in their iPhone contact list.
Shoppers use PricePad, which has been downloaded over 100,000 times, to build and organize shopping lists for any product they want to save money on. PricePad is great for keeping track of groceries, books, videos and the latest gadgets on user's wish list. The handy grocery folder sorts the grocery list by last purchase date to quickly see what items are bought every week. And thumbnails now download automatically for books and media items when barcode is scanned.
PricePad 2.0 enhances the shopping experience by bringing the best online deals to the mobile phone.
PricePad Pricing and Availability:
PricePad 2.0 is only $1.99 (USD) and available in the U.S. exclusively through the App Store in the Lifestyle category. Purchase and download PricePad now.
Learn more about PricePad: http://blueringmobile.com/pricepad
About Blue Ring Mobile
Blue Ring Mobile LLC is a developer of advanced mobile applications for the smartphone with offices in San Francisco and Vancouver. Pricepad was launched in September 2008 and has been downloaded over 100,000 times and among the top lifestyle and productivity apps in Apple's App Store. Pricepad has been featured in newspapers, radio and blogs, such as NPROnline, MetroRadio, HK Economic Times and TheAppPodcast. For more information on BlueRing: http://blueringmobile.com. Copyright (C) 2010 Blue Ring Mobile LLC. All Rights Reserved. Apple, the Apple logo, iPhone and iPod are registered trademarks of Apple Inc. in the U.S. and/or other countries.
###