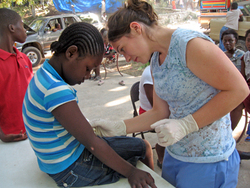 It looks like an atomic bomb went off
Perrysburg, OH (Vocus) February 18, 2010
When the deadly earthquake struck Haiti January 12, Ohio-based ISOH/IMPACT, was ready to respond within hours. They have a network of ministry partners in the impoverished island and were able to put their contacts to work almost immediately, sending a team of 20 doctors and medical personnel to tend to the injured. Nearly a month has passed since the medical team's return to Ohio, but Linda Greene, ISOH/IMPACT President and CEO, says the work is just beginning.
"It looks like an atomic bomb went off," Greene says. "...Infection is rampant because there's no clean water. There's no place for them to wash anything."
The biggest challenge comes with keeping the survivors alive, and that's what ISOH/IMPACT intends to do.
"We've saved their lives, and now we have to establish a quality of life," says Wes Taylor, ISOH/IMPACT Program Coordinator. "We've left these people with a lot of wounds, and it's going to take time and it's going to take care for the wounds to heal."
Greene and Taylor will accompany a team of disaster relief personnel February 22-27 to asses the current needs in Haiti and help develop a long-term plan of response, including how to get prosthesis to amputees from the earthquake. Another one of their priorities will be to solidify a program to care for nearly 500 orphan refugees entrusted to the care of Double Harvest, an ISOH/IMPACT ministry partner.
"These children have lost their homes, families, and what few possessions they had," Greene says. "They are scared, lost, and vulnerable."
The team will also check on the feeding program at Double Harvest and determine what else needs to be done. Food distribution has been especially difficult in Haiti, but the ISOH/IMPACT partner has developed a system using color-coded bracelets distributed the oldest woman in each household of a village. The villages each are assigned a different color bracelet, making it easier to monitor distribution and ensure that the neediest families are receiving the aid.
"Creative solutions like this are what will keep relief efforts moving forward in Haiti," Greene says. "That's why ISOH/IMPACT builds strategic partnerships with organizations already on the ground in the countries we serve. Through these partnerships, we maximize efficiency, reduce costs and serve the most people possible. At the end of the day, that's what it's all about."
ISOH/IMPACT is a disaster relief organization serving families around the world and right here at home in the United States. The organization has served victims of natural and man-made disasters in Africa, Asia, Central America, North America, the Middle East and South America and has played a key roll in disaster relief efforts following both Hurricane Katrina along the Gulf Coast and the tsunami in Indonesia. Other ministries of ISOH/IMPACT include The Children's LightHouse in Perrysburg, OH, and children's sponsorship programs in Tajikistan, Honduras and Haiti. Visit http://www.isohimpact.org to learn more about ISOH/IMPACT and how you can be a part of Reaching Out & Serving Others.
###