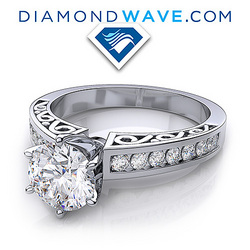 DiamondWave, The New Wave of Integrity
New York, NY (PRWEB) February 22, 2010
Pamela Scott, president of DiamondWave.com, is a diamond expert who is passionate about ensuring her customers receive the best quality product. Pamela explains "there are many reasons that DiamondWave.com is a cut above the rest. Diamonds through time have been proven to be valuable both as an investment and on a personal level. On a personal level, diamonds create wonderful memories. When a woman looks at her diamond engagement ring, she remembers that incredibly special moment when her husband asked her to marry him. Our team fully understands the precious nature of our product. We have created a blog preciousdiamonds.info to share our passion and the wealth of knowledge with a broader community. This will be a great resource for consumers to learn more before they purchase. And, it is also a way for customers to share their personal thoughts on what makes a diamond so special to them."
DiamondWave.com offers an unprecedented 10 Year Trade-Up program. A customer's trade up credit will be equal to the diamond's full purchase amount. There is no limit to the number of times you can upgrade your diamond with no restocking fee.
The diamond stud earrings are priced to be beat other top rated jewelry stores. The diamond cut grades are very good or better. The sparkle of a diamond greatly depends on the proportions of a cut. The better the cut of the diamond, the more brilliant and vivid the sparkle.
DiamondWave.com offers an online shopping experience that is of value to the consumer. DiamondWave.com offers designer quality jewelry at discount prices and recently, introduced a new special order program enabling our customers to design their own jewelry with assistance from the staff. The Sparkle of the Week program has also been launched; it is a specially selected piece of jewelry at exceptional savings. The site now has live chat integrated into the home page as well so that online support can be provided to customers while on the site. In the future, online gift certificates will be available.
DiamondWave.com is embracing 2010. Our staff is dedicated to continuously improving online jewelry shopping experience and they look forward to great offerings ahead.
About DiamondWave.com:
Our team has been in the wholesale diamond and jewelry manufacturing business for over 70 years. We have major diamond and jewelry manufacturing facilities in the heart of the 47th Street Diamond District in New York City as well as locations in Tel Aviv, London, Paris and South Africa. DiamondWave's online store offers exceptional value and quality with an inventory of thousands of GIA and AGL certified diamonds.
DiamondWave Inc.
Press Inquiries:
1-866-978-7801
###