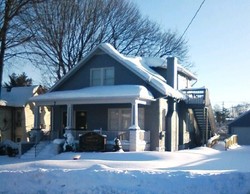 Honoring the life of those we've lost does not have to be expensive. Dignity and respect comes at a great value with Thibadeau Mortuary.
Gaithersburg, MD (PRWEB) February 21, 2010
A new, affordable option in funeral and cremation care opens their doors. Thibadeau Mortuary Service, P.A. recently opened a new location on Park Avenue. Founded and operated by native Washingtonian, James J. Thibadeau, the inter-faith funeral provider offers affordable prices, flexibility, first class service and over 20 years of experience caring for grieving families throughout the Washington DC metropolitan area.
With cremation services from $995.00 and burials from under $2,400.00 (including casket) Thibadeau Mortuary is perhaps the best funeral value in Montgomery County. The service-oriented staff has experience in all major American religions and turns no one away. Offering a Spanish-speaking associate, Thibadeau Mortuary welcomes all religious and non-religious families from their multicultural community. Even "green" environmentally friendly burials are an option with Thibadeau Mortuary.
"All are welcome and honored here," says local Washingtonian Jamie Thibadeau, "the words, languages and funeral mores may change but there is always a common thread; the human loss that binds our community together."
The sprawling metropolitan area surrounding Washington DC in Maryland and Virginia has created an exciting mix of cultures and traditions. With the growig multicultural and interfaith community comes funeral rites from all over the world. It is with this dynamic community in mind that Jamie Thibadeau founded the interfaith funeral service known as Thibadeau Mortuary Service now located at seven Park Avenue in Olde Towne Gaithersburg Maryland. (http://www.InterFaithFunerals.com) James "Jamie" Thibadeau and with Brian P. McKee are the primary funeral directors of the funeral home.
Thibadeau Mortuary is one of the very few providers of funeral care to encourage families to hold viewings and ceremonies in the home of a family member or other convenient facility that offers a more comfortable environment. Although Thibadeau Mortuary offers to conduct home wakes and ceremonies, they also work with many event facilities and places of worship throughout Maryland, DC and Virginia. With such large and beautiful homes in the DC area, Thibadeau Mortuary points out that the older tradition of a "home-wake" is becoming more popular. According to Jamie Thibadeau, "A home is a wonderful and healing place for a grieving family and friends to gather. It avoids the sterile environment of a funeral home and allows the family, especially the children, to be at ease and feel comfortable."
The benefits of calling on Thibadeau Mortuary are the convenience and the economic savings. The funeral directors will arrange the details of the funeral or cremation at the funeral home, the family's home or their place of worship. Advanced planning of a cremation or funeral is done without sales pressure and in some cases through the internet or by mail. When pre-planning a funeral pre-payment is not required, and in some cases even discouraged. What many people don't know is that you need not prepay when you prearrange. Thibadeau Mortuary is happy to record your wishes and hold them on file at no charge.
Jamie Thibadeau has handpicked top-quality staff that is instilled with the innate desire for exceptional customer service and keen attention to detail. Thibadeau Mortuary Service is pleased to offer personalized care that suits the interest and traditions of all faiths and individuals' day or night.
###