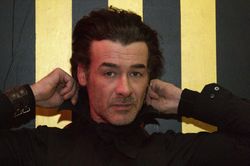 "One of the main goals of the QAS is to shake up some of the existing conventions of the art world by innovating how the arts are delivered and consumed." said Mr. Gerard McNamee, Head Curator, The QAS
New York (PRWEB) February 18, 2010
The Quarterly Art Soirée' (QAS), an innovative art collective, today announced that its first quarterly art exhibit and charity benefit, "Art for Haiti," will be held on February 28th, 2010 at New York City's historical Webster Hall. The QAS is the brainchild of Gerard McNamee, a seasoned entertainment entrepreneur who currently heads up operations for Webster Hall and is co-curated by Jenny Mushkin, a fine art curator and East Village resident. Founded to celebrate New York City's position as one the world's most vibrant and exciting cultural centers, the inaugural QAS event will be a fundraiser for Orphans International Worldwide (OIWW) to fast track the opening of two new orphanages in Haiti.
"One of the main goals of the QAS is to shake up some of the existing conventions of the art world by innovating how the arts are delivered and consumed," said Mr. Gerard McNamee, Head Curator, The QAS. "That said, we're not out to level the playing field as much as rearrange it to allow more room for capable and talented people to thrive. Hopefully, we can bring this sentiment to Haiti as well. There are thousands of orphaned children in desperate need of the essentials of life. By helping Orphans International Worldwide provide a few hundred Haitian orphans to find a good home, we hope to make a game-changing impact on those we do help."
"Art for Haiti" will run for 24 hours and feature the best of New York City's most established and emerging artists, designers, musicians and performers while raising funds for Haiti by honoring Orphans International Worldwide (OIWW), a U.N. recognized charity that cares for orphans in disaster-hit countries. Founded by respected philanthropist and New York social stalwart Jim Luce, Orphans International Worldwide currently has community centers in Sri Lanka, Indonesia and Haiti.
The QAS's eclectic lineup that will feature established artists such as Peter Yarrow (of the iconic musical trio, Peter, Paul & Mary), fine artists Sky Ferrente and Ryan MacDonald, multi-media presentation by Rock and Roll interviewer-to-the-stars David Silver, a short film presentation by Royalflushfestival.com programmer Jim Muscarella and have jewelry for sale from Kenneth Jay Lane. The evening will culminate in a party featuring popular New York DJ's Andrew Andrew.
For a full list of participating artists, please visit http://www.theqas.com. Art for Haiti is free for children under 12, $10 before 12pm and $15 after 12pm.
As part of the celebration, OIWW's founder, Mr. Luce will present Global Leadership Awards on behalf of the QAS and Orphans International Worldwide to a group of individuals including Peter Yarrow, New York City Congresswoman Carolyn Maloney; The Hon. Palitha Kohona, Sri Lankan Ambassador to the United Nations; Ms. Cynthia Choi Ahn, Executive Director, Join Together Society America; Mr. Jay Alexander, Judge, America's Next Top Model; CBS news anchorwoman Cynthia Hsu and others for their contribution to improving the quality of life both in New York and the world. The Global Leadership Awards Ceremony will also honor artists from OIWW's participating countries as well as entertainment, political, and diplomatic leaders and will have an additional entry charge. For more information please visit http://www.oiww.org
"One of the core tenants of OIWW is to help orphaned children grow into solid citizens of the world through a sound structure that is, among other things, International, because our neighbors are our family; Inter-generational, because there is much to learn from our elders; and Internet-connected, because the world today is at our fingertips," said Jim Luce, OIWW founder. "These qualities are what make the QAS such a kindred spirit. Its inclusiveness, respect for history, diversity and community are directly aligned Orphans International."
Morgan Freeman, founder of Bluecrash Media acts as Technical Advisor, Interactive Media and Sponsorship Director for the QAS, and Elizabeth Safran, founder of Looking Glass Public Relations leads Communications.
"Interest in the QAS to date has been phenomenal, and its New York-centric aesthetic is a great compliment to Orphans International Worldwide's cause. By providing homes for parentless children in developing countries, OIWW creates the same kind of opportunities sought by the millions who came and settled in New York in search of a better life," said Mr. McNamee.
Webster Hall – a New York Institution
Built in 1886, Webster Hall has been a gathering place for the people of New York City and the world for 137 years. Over the years its main stage has hosted the likes of Green Day, Mick Jagger, Prince, Iggy Pop, Guns and Roses and Eric Clapton. During Prohibition, infamous mobster Al Capone owned Webster Hall and upon prohibition's repeal threw one of its most legendary parties - "The Return of John Barleycorn."
Emma Goldman, Marcel Duchamp and others hosted costume balls benefiting nascent political and social causes. With a deep cultural history that reflects the vitality of New York City's dynamic East Village and its seminal role as a beacon for art, music, politics and social causes, Webster Hall is the perfect entertainment venue.
About the QAS
The Quarterly Art Soirée' was founded to exhibit, expose and promote the best talent in painting, music, film, fashion, theater, graphic design and performance, installation and video art while celebrating the rich cultural history of the Webster Hall venue and of New York City's dynamic East Village. The QAS seeks to showcase art, fashion and music in a vibrant and unassuming manner so that the art form is not held to the traditional pedestals of the "white-cube" gallery, sleek runway, classic stage and the like. Rather, spectators will witness these creations as an organic part of a communal environment –where not one thing is not set apart from another – and art may fuse with everyday life.
# # #