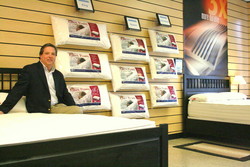 Waking up tired? Back pain? Tingling hands or legs? The Truly Adjustable Latex Mattress is the solution
Shelton, CT (PRWEB) February 20, 2010
Custom Latex Sleep Products, a retailer of customized latex mattresses, announces that, for the first time ever, a mattress can be constructed based on each user's individual Body Profile to eliminate tossing and turning. For King and Queen mattresses, each side of the mattress can be custom-designed with different densities.
Relief from aches and pains = better sleep
In a conventional mattress, high pressure areas at contact points between the body and sleep surface (typically at the head, shoulders, hips and feet) shut off blood flow which interrupts sleep. A latex mattress reduces pressure points, helps bring oxygen and nutrients to the muscles and facilitates optimal spinal alignment for a more refreshing, restful nights' sleep.
"When latex mattresses' firmness and support are customized according to each user's Body Profiler, the benefits of latex increase exponentially. I've coined the term Truly Adjustable Latex Mattress™ to describe these unique advantages," said Bob, Zukowski, owner, Custom Latex Sleep Products.
"With the Truly Adjustable Latex Mattress, users can enjoy more stage 4 sleep. That's when the body replenishes muscles, strengthens bones, and maintains a healthy immune system, so you awaken feeling rejuvenated," Zukowski added.
Change the feel today, or 10 years from now
Within the first 90 days of purchasing the Truly Adjustable Latex Mattress, buyers can modify the feel by simply unzipping the mattress cover and removing the top layer of foam (topper) and exchanging it for a different density at no charge.
When conventional bed owners need a new mattress, typically after 10 years, buyers of the Truly Adjustable Latex Mattress can simply purchase a new topper rather than a whole new bed. The Truly Adjustable Latex Mattress is the only mattress that's both customizable and adjustable.
Unsurpassed comfort and superior support
"Waking up tired? Back pain? Tingling hands or legs? The Truly Adjustable Latex Mattress is the solution," says Zukowski.
That's because the Truly Adjustable Latex Mattress naturally conforms to body contours for optimal orthopedic support. In fact, its unique pinhole design and open cell structure feels like sleeping on air.
Latex mattresses feel luxurious and have a superior comfort life, maintaining their showroom feel for years. Thanks to their exceptional durability, they will not break down or take body impressions, and never require flipping or turning.
Naturally hypoallergenic and dust mite resistant, the Truly Adjustable Latex Mattress is inherently antimicrobial, inhibiting the growth of bacteria, mold and mildew, and produced using an environmentally friendly water-based process.
For a Free evaluation complete our unique Body Profiler
About Custom Latex Sleep Products:
Custom Latex Sleep Products creates customized, adjustable latex mattresses one mattress at a time, and is offering 2 Free pillows with each mattress ordered. Mattresses can be shipped anywhere in the U.S. from our Shelton, CT showroom. Pillows and toppers are also available.
To find out more about custom latex mattresses, visit http://www.trulyadjustable.com
###