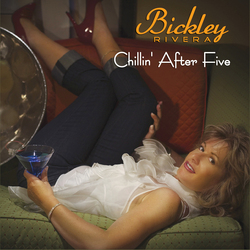 Bickley Rivera's island-born Steelpan shakes the smooth jazz and chill world
Tampa, FL (PRWEB) February 23, 2010
Tampa-based steelpan (steeldrum) instrumentalist-singer-songwriter releases "Chillin' After Five" featuring international recording artists Praful, Ed Calle and Magrus Borges in her soothing and pacifying nujazz music collection. The album, 'Chillin' After Five', consists of eleven original songs and one cover song showcasing the mellow vibes of the steelpan, and her velvet vocals. Rivera also performs all keyboard tracks. The underlying tone is a smooth jazz flavor, but the music is also layered throughout with elements of electronic, dance, chillout, reggae and downtempo. The album was recorded at several locations throughout the world including Netherlands, New York, Miami and Tampa and collaborated via internet and digital technologies. It was produced by Greg Minnick and mastered by world-renowned engineer Bob Katz.
Bickley's pre-release single "Groovin' in Rio" received considerable airplay on CBS' WRCH 100.5FM in Southern New England on their normal programming, smooth jazz brunch and HD stations. Stations in Greece and UK also have featured her songs prior to the final release of "Chillin' After Five". She has listeners from over 35 countries around the globe.
Bickley, a multi-genre songwriter, chose to compose these selections with the love of the beautiful steelpan sound in mind. "I was inspired to write these smooth jazz and chillout songs because I knew that the steelpan had more to say than just caribbean island notes", says Bickley. "I felt the instrument's acceptance as a solo instrument had begun, and was time for fans to experience its full beauty. In recent years, female smooth jazz artists have been setting a trend and it's really exciting times for us. Music can truly be a universal language appreciated by the entire world. "
Greek Radio Broadcaster Kostas Bagiartakis at DRS FM 95 says "Your music is incredible and possibly a phenomenon. I have played several of your songs on our station here and absolutely love Pan Funk. Keep going Bickley!" Listeners around the world have remarked " Awesome sounding music that makes the man behind my eyes dance to the beat of the ear drums! " and " Great Samba Rhythm...makes me think I'm on holiday in the Caribbean! "
Bickley is in demand as a steelpan soloist throughout the northeast and southeast US for her calypso and island abilities. She performs with many other artists and amazes true islanders with her authenticity and technique. She has appeared at many international resorts, large-scale festivals and on worldwide radio.
Promoters, publicists and fans are encouraged to visit Bickley's Websites http://www.ChillinAfterFive.com and http://www.BickleyRivera.com . Videos are posted along with press information and photos. Fans can sign up on the Bickley Rivera Facebook Fan Page (http://www.facebook.com/pages/Bickley/43099321815) and Reverbnation (http://www.reverbnation.com/bickleyrivera ).
###