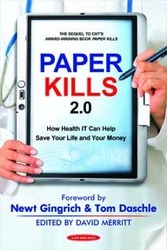 Technologies like those developed by StatCom will become a major tool used by forward looking hospitals. - Former House Speaker Newt Gingrich, founder Center of Health Transformation
Atlanta, GA (PRWEB) February 24, 2010
StatCom (http://www.statcom.com/) announces its contribution in the publication of Paper Kills 2.0: How Health IT Can Help Save Your Life and Your Money, the timely, powerful sequel to the award-winning book, Paper Kills. Newt Gingrich, Tom Daschle, and national industry leaders explore the leading information technologies that can and will transform our health system. StatCom, a leading innovator in helping hospitals achieve peak performance, contributed a chapter on adaptive technology in the new book which is being launched today.
Ben Sawyer, executive vice president, StatCom, and Jim Rosenblum, MS, CPHIMS, EVP, products and CTO, co-authored the chapter: "Adaptive Information Technology: Driving Hospital Quality and Efficiency through Process Improvement," which focuses on how hospitals can use innovative and proven process initiatives to transform their operations to achieve peak performance.
"We were honored to participate in the development of content for Paper Kills 2.0," said Ben Sawyer, executive vice president, StatCom. "It's time for process initiatives in healthcare to achieve the same level of respect and impact it has afforded other industries. However, like other industries it must be adapted and customized to the unique and ever-changing environment of the hospitals that can benefit from it."
Hospitals are too complicated for human effort alone to sustain improvements. If they continue their current efforts to optimize patient throughput without the foundation of an adaptive technology, they will continue to encounter the same frustrations that currently exist. Staff will burn out and change roles. Improvement gains will continue to degrade over time. Preventable errors will continue to occur. Patients will continue to stay in hospitals too long, driving up the cost of their care.
StatCom's Hospital Operating System™ solution, through process re-engineering and enabling software, helps hospitals transform their operations to deliver efficient patient throughput, reduced ALOS, and improved physician, patient and staff satisfaction. Client results are remarkable, delivering as much as $10.3 million and five times the ROI in the first 12 months of a StatCom strategic partner engagement.
"Technologies like those developed by StatCom will become a major tool used by forward looking hospitals," said former House Speaker Newt Gingrich, founder Center of Health Transformation. "Paper Kills 2.0 is timely as is StatCom's vision for transforming the delivery of healthcare."
With a specific look at the impact of the federal ARRA investment, Paper Kills 2.0 is a thought-provoking book that explores the most important drivers of health IT, from innovation, primary care, and clinical research to e-prescribing, electronic administration, and health information exchange. With praise from luminaries such as Dr. Mehmet Oz, Mike Leavitt, Bill Frist, and Jeff Immelt of GE, Paper Kills 2.0 is required reading for industry leaders, providers, and policymakers who want to understand what is happening today and what will likely happen tomorrow to bring healthcare into the 21st century.
USA Today will print a special section on health IT on Friday, February 26. They are including a shortened version of the Newt-Tom Daschle foreword. The special section will be included in their papers in New York, Chicago, Milwaukee, and Los Angeles, San Diego. They will also have 30,000 copies available at HIMSS (http://www.himssconference.org/ ) (largest healthcare IT industry conference) beginning Monday, March 1.
For details on ordering Paper Kills 2.0, go to http://www.healthtransformation.net/cs/PaperKills2.
About the Center for Health Transformation (CHT)
The Center for Health Transformation is a high-impact collaboration of private and public sector leaders committed to creating a 21st Century Intelligent Health System that saves lives and saves money for all Americans. CHT is based on the following premise: Small changes or reactionary fixes to separate pieces of the current system have not and will not work. We need a system-wide transformation. Unlike other alliances, CHT unites stakeholders across the spectrum (providers, employers, vendors, trade associations, disease groups, think tanks) and government leaders at both the state and federal level to drive transformation according to a shared vision and key principles.
About StatCom
Through process re-engineering and enabling software, StatCom's Hospital Operating System™ helps hospitals transform their operations to deliver efficient patient throughput, reduced ALOS, and improved physician, patient and staff satisfaction. The solution eliminates the fragmentation normally associated with silo-based operations so that patient throughput processes across all departments are synchronized. This enables all patients, simultaneously, to flow at their best possible rate with respect to LOS, service, quality, safety, and resource consumption. StatCom is a subsidiary of Jackson Healthcare®, a group of companies focused on providing the healthcare industry with innovative people resources and IT solutions. For more information, visit http://www.statcom.com, or contact StatCom at 800.930.0870.
# # #