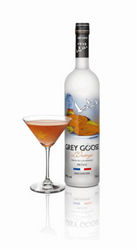 The biggest names in cinema will gather in London...for the second year Grey Goose vodka has been chosen as the spirit for the official BAFTA after party
London, UK (PRWEB) February 18, 2010
Grey Goose, the world's favourite luxury vodka is partnering with BAFTA and private members' club, Soho House to host the film world's elite at the official after party for this year's Orange British Academy Film Awards – the "BAFTAs".
The biggest names in cinema will gather in London on Sunday 21st February for the awards ceremony and for the second year Grey Goose vodka has been chosen as the spirit for the official after party.
Synonymous with film, Grey Goose vodka and Soho House are continuing their successful partnership having hosted high-profile movie-world parties in West Hollywood and during the festivals in Cannes and Toronto.
In honour of the occasion, global ambassador for Grey Goose vodka, Dimi Lezinska, has created a collection of delicious cocktails, which will be enjoyed by the exclusive guest list attending the official awards after party.
Mingling with party guests as this year's Awards ceremony and after party will be special guest "Grey Goose Insider", Will Lawrence. A former writer for Empire magazine in the UK, Will promises film fans around the world an access-all-areas report on the evening's proceedings on http://www.blog.greygoose.com.
One of the stars of the night, the L'Orange BAFTA is a toast to the world's best in film. The tangy citrus flavours of Grey Goose L'Orange and orange curaçao, are married with raspberry syrup to create a bright, fresh cocktail garnished appropriately with a shining citrus star.
Ingredients

1 1/2 parts Grey Goose L'Orange
1/3 part orange curaçao
1/2 part raspberry syrup
1/2 part freshly squeezed lemon juice
Method

Fill a shaker with ice
Add all the ingredients
Shake well and strain into a chilled coupette or martini cocktail glass
Garnish with orange zest in the shape of a star
For further press information, please contact Rosalyn van Tol at Treehouse PR, tel +44 (0)20 7224 0994
GREY GOOSE VODKA
Grey Goose vodka, the world's favourite luxury vodka, is created with one goal - to be the world's best tasting vodka. Made in Cognac, France, home to the world's most respected experts in spirits making, Grey Goose vodka benefits from the region's rich history of creating luxury foods, wines and spirits. The Maître de Chai (cellar master) for Grey Goose vodka ensures that every element of its production is of the highest quality. He selects 100% of the finest French wheat, the same wheat used to create delicious French pastries, and employs an exclusive five-step distillation process to concentrate its exceptional flavour. Pure spring water naturally filtered through Champagne limestone is then blended with the spirit. Only when the spirit has reached its optimal taste is the maître de chai truly satisfied. Grey Goose vodka is lush, smooth and rounded and melts in the mouth with a long-lasting, satisfying finish.
###