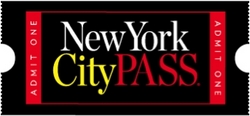 New York (PRWEB) February 20, 2010
When spring fever hits, forget sunburns and sand. New York CityPASS encompasses a first-rate Big Apple experience that doesn't require a big bankroll — or gallons of sunscreen. Instead, CityPASS lines up deeply discounted admission tickets to New York's most famous attractions, including the Top of the Rock Observation Deck, a new addition to the 2010 program. With Top of the Rock joining the iconic Empire State Building on the pass, New York CityPASS has cornered the market on Manhattan's most dramatic views.
First-time and repeat visitors can save $65, and enjoy line-skipping access to the aforementioned Empire State Building and Top of the Rock, as well as the Metropolitan Museum of Art, The American Museum of Natural History, Guggenheim Museum (may be visited in place of Top of the Rock), the Museum of Modern Art (MoMA), and a second option ticket that offers the choice of a Circle Line Sightseeing Cruise or a visit to the Statue of Liberty and Ellis Island. New York CityPASS is $79 for adults (a value of $144); $59 for youth, ages 6-17 (a value of $108).
From the Top of the Rock, visitors drink in Manhattan's fantastic vistas. The building's 70th-floor observation deck, originally designed to evoke the upper decks of a luxurious 1930's ocean liner, offers a bird's-eye view of Central Park and the Hudson River, as well as one of the best vantage points from which to study the elegant lines of the nearby Empire State Building. Although originally opened in 1933, Top of the Rock has only recently rejoined Manhattan's list of must-see attractions. Following a major renovation, it reopened to the public in 2005 after being closed for nearly two decades.
Also newly renovated is the grand lobby of the Empire State Building. A $12.5 million project recently restored two Art Deco ceiling murals that hadn't been seen for nearly 40 years. Boasting 1,300 square feet of 23-karat gold leaf, the murals complement several other lobby restorations, all of which make a visit to the Empire State Building a must-do — even for those who have visited previously. Unchanged are the views from the landmark building's 86th-floor observatory, which remain eternally stunning. (CityPASS admission includes an audio tour.)
Nature feeds the curious mind at the American Museum of Natural History and Rose Center for Earth and Space. Special exhibits for spring and summer: Traveling the Silk Road (through Aug. 15), tracing the greatest trading route in history, and, back-by-popular-demand, The Butterfly Conservatory (through May 31), a re-created tropical forest environment with more than 500 live butterflies.
New York CityPASS also corrals some of the city's finest indoor views, including masterworks at the Metropolitan Museum of Art and the Museum of Modern Art (MoMA). The Metropolitan Museum of Art's VIP general admission ticket includes all special exhibitions and same-day admission to The Cloisters, a medieval monastery-style building that houses the Met's collection of medieval European art. The Guggenheim Museum, which is included on one of the CityPASS booklet's two option tickets, is as well known for its spiraling Frank Lloyd Wright design as it is for its paintings by Picasso, Chagall, van Gogh, Matisse, Cézanne and others.
Eye-candy views of Manhattan's architecture and skyline can be had through the second option ticket in the CityPASS booklet. This ticket gives travelers a choice of either a two-hour Circle Line Sightseeing Cruise that highlights mid- and lower Manhattan, as well as circling the Statue of Liberty, or a Statue Cruises' tour that stops at the Statue of Liberty and Ellis Island.
New York CityPASS can be purchased online citypass.com or at any of the New York CityPASS attractions. It is valid for nine consecutive days, beginning with the first day of use.
CityPASS showcases the best attractions in North America's most exciting destinations at an incredible discount. CityPASS ticket booklets are available for New York, Atlanta, Boston, Chicago, Hollywood, Houston, Philadelphia, San Francisco, Seattle, Southern California and Toronto. For more information on CityPASS and its partner cities and attractions, visit http://www.citypass.com.
# # #