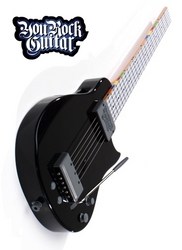 The guitar is cool, period
Los Angeles, CA (Vocus) February 23, 2010
Inspired Instruments, a Los Angeles-based start up, recently unveiled the You Rock Guitar, a mobile digital guitar that is being received as one of the "must have" entertainment products of 2010. Bridging the worlds of music-making and gaming, the You Rock Guitar is a digital guitar that plugs into an amp, but also connects wirelessly to any video game console to control the popular Guitar Hero and Rock Band video games and plugs into computers as a MIDI controller.
Based on the reaction to the You Rock Guitar during the Consumer Electronics Show and NAMM, the premier musical product trade show, Inspired Instruments' You Rock Guitar seems to have struck a chord with those following music, tech and gaming products, including those at leading press outlets such as USA Today, PC World, GamePro and G4TV's "Attack of the Show." The company is confident this product will achieve breakout success among gamers, beginning and established guitarists, as well as anyone who has been waiting for the right nudge to pick up a guitar to play and learn.
An entirely new entertainment platform, You Rock Guitar is designed to appeal to musicians of all levels and gamers who play the wildly popular Guitar Hero and Rock Band video game titles, a combined market of more than $12 billion and 130 million consumers. However, Inspired Instruments believes You Rock Guitar has even more mainstream success potential with the millions of people who have little or no guitar playing background and will be drawn to the instrument's "You Rock Mode," which enables anyone to play along with its built-in song library without making audible mistakes and also to play leads over songs stored on iPods and iPhones.
"The guitar is cool, period," said company co-founder and CEO Kevin Kent. "Millions have gotten a whiff of the guitar experience through games like Rock Band and Guitar Hero, and though they're not actually playing music, they are undeniably having fun. This is a real instrument that lets anyone rock right out of the box, but it will also support them as far as they want to take their quests to learn, play, record or compose music."
The beauty of the product line "is that it appeals to many different markets: musicians, aspiring guitar players, composers, educators, and video gamers," said company co-founder and President, Cliff Elion. "It's a large market opportunity."
"The You Rock Guitar is the first product in a line of digital instruments that we are creating to inspire this generation of music makers of all skill levels," said company Executive VP of strategic development, JR deSouza. "As musicians and gamers, our management team shares the passion our target audience has for music and gaming. As a result, we have created a very engaging digital music solution that connects with the key devices of today's lifestyle -- iPods, iPhones, computers, and video games."
The Development of You Rock Guitar
In developing You Rock Guitar, Inspired Instruments created a core of patented intellectual property and operational software to take advantage of this new technology. This unique new platform offers unprecedented versatility as a video game controller that also doubles as a stand-alone portable guitar and MIDI device that can be played with standard guitar amps or headphones. It can also be used in conjunction with iPods and MP3 players for playing along with favorite songs and with Macs and PC's for creating and recording compositions. This feature set and a consumer-friendly price point of $199.99 SRP have been generating a lot of buzz since its release.
While current gaming guitars increase awareness of the six-string's glories and a desire to play and perform on real music instruments, only the You Rock Guitar offers a realistic playing experience and encourages and enables the transition from gaming to music-making. The company also offers individual GameFlex cartridges ($24.99 SRP) that make the device compatible with Wii, PS3, Xbox 360, iPhone and PC, as well as other accessories.
About Inspired Instruments Management Team
Bringing You Rock Guitar to market is a management team with deep experience in the guitar and musical instrument, electronics and consumer products categories, as well as in marketing and manufacturing, which includes:
Kevin Kent, co-founder and CEO, has developed and marketed musical instruments and software for more than 25 years. He was instrumental in introducing the polyphonic synthesizer, MIDI, digital sampling, digital drum machine and MIDI guitar. Formerly president of Filmsonix, he helped launch Apple into the music and film markets. As principal of his own production company, Inspired Arts & Media, LLC., Kevin has produced interactive media for Paramount, Disney, Universal Pictures, FOX, MGM, Sony, Sesame Street and Fox Sports.
Cliff Elion, co-founder and president, invented and designed You Rock Guitar. He has 25 years of experience developing consumer products, musical instruments and toys. His long career in guitar-building includes interactions with the renowned inventor and guitarist Les Paul and work with companies such as Gibson Gibson, Jakks Pacific, Mattel, Seymour Duncan, Leapfrog and Microsoft, among others. Over the course of his career, he has brokered long-term relationships with Asian sources and manufacturers.
JR deSouza, executive VP of business development, helped start the company after a long career in high technology, electronics, and consumer goods. JR helped create and build brands that have become house-hold brand names. He was the original product manager for the Pronto remote control and TiVo television services. He also held key commercial roles at Philips Electronics, TiVo, Samsung, and the Walt Disney Company.
"The company has been in operation for a little over one year, and has put together an impressive infrastructure and business operating plan" says deSouza. "Cliff's invention is a wonderful product and when joined with Kevin's vision and leadership, the You Rock Guitar will be the entertainment product everyone will be talking about."
For more information about Inspired Instruments and the You Rock Guitar, please contact Inspired Instruments at info(at)inspired(dot)com or visit the company Web site at http://www.YouRockGuitar.com. Also on Twitter, Facebook and YouTube as YouRockGuitar.
About Inspired Instruments
Inspired Instruments is dedicated to providing innovation at every opportunity – real music for real gamers. You Rock Guitar ™ GameFlex™ and You Rock Mode™ are registered trademarks of Inspired Instruments, Inc.
# # #