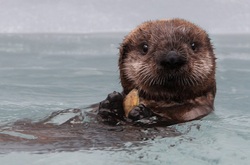 We hope people will be inspired to protect these icons of the Central Coast.
Monterey, CA (Vocus) February 19, 2010
An 11-week-old rescued sea otter pup is the youngest ever to join the Monterey Bay Aquarium's sea otter exhibit. The young female, Kit, joins 9-year-old resident Mae, acting as companion to the young pup.
Kit came to the Aquarium as a 5-week-old stranded animal, after she was rescued in Morro Bay by a sea otter biologist with the California Department of Fish and Game, following unsuccessful attempts to reunite her with her mother.
"We're thrilled that our visitors will have this rare opportunity to see a sea otter pup up-close," said Chris DeAngelo, the Aquarium's associate curator of mammals. "We hope people will be inspired to protect these icons of the Central Coast."
Kit will remain on exhibit as long as DeAngelo and her staff continue to see positive interactions between Kit and Mae, and if Kit eats well and adapts to her new home. When the time is right, Kit and Mae will be joined by the other exhibit sea otters – Maggie, Toola, Rosa and Joy (all adult females) – who are busy behind the scenes serving as surrogate mothers and companions to other stranded animals.
According to Andrew Johnson, Manager of the Aquarium's Sea Otter Research and Conservation (SORAC) program, Kit is not a candidate for return to the wild. Other rescued pups are occupying behind-the-scenes areas needed by animals being raised for release, so the U.S. Fish and Wildlife Service has authorized the Aquarium to manage Kit in its sea otter exhibit.
SORAC cares for stranded sea otter pups and injured adults in off-exhibit holding pools to keep them wild for future release. More information about this groundbreaking program can be found on the Aquarium's new Sea Otter Research and Conservation web pages.
In addition to seeing Kit in person, you can watch her on the Aquarium's Otter Cam. Updates on the pup's progress will be posted on the Aquarium's blog, website and Facebook page.
The mission of the nonprofit Monterey Bay Aquarium is to inspire conservation of the oceans.
http://www.montereybayaquarium.org
###