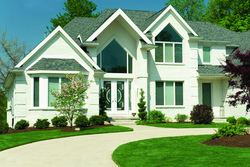 V-SEAL's new One Week Concrete Cure and Seal System saves contractors time and money and helps create concrete so strong it can have a warranty.
Lewis Center, OH (PRWEB) February 20, 2010
V-SEAL Concrete Sealers today announced that the Company has hired Bill Scholl as Senior Technical Sales Advisor. Mr. Scholl's background includes two years at Wellnitz Concrete Block and thirty-one years at Lafarge North America where he provided sales and technical service to concrete ready mix suppliers and concrete supply centers throughout Ohio. He has also served on the board of the Ohio Concrete Block Association and as a member of the Ohio Air National Guard. Mr. Scholl will be responsible for sales and technical support of V-SEAL's complete product line of concrete curing agents and sealers, including V-SEAL's new "One Week" Concrete Cure and Seal System.
V-SEAL's product line of concrete curing agents includes traditional acrylic resins, but also V-SEAL's top selling scientifically superior chemical curing agents V-SEAL 101 and V-SEAL 102. These products are not silicate-based. They form a resin membrane internal to the concrete surface and provide the moisture retention characteristics prescribed by ASTM C156 and ASTM C309 with the durable lasting benefits of
V-SEAL's long term concrete sealers.
Another leading product for curing new concrete is V-SEAL 101 ER (Epoxy Reinforcement), an on-site epoxy additive for V-SEAL 101 which increases long term concrete protection by adding a protective layer of breathable epoxy to the internal protection created by V-SEAL 101. V-SEAL 101+ER is applied to new concrete on the day of the pour and is considered the ultimate "one shot" cure and seal product on the market today.
Some concrete experts suggest that due to substantial amounts of water at the surface of green concrete, a two-step curing and sealing process is optimal for curing and maximum long term protection. The traditional two-step method involves curing with acrylic resin, waiting 30 days or more, power washing, and then sealing with long term sealer. Although technically feasible, the flaw in the old system is that after 30 days or more, busy contractors seldom return to the job site. V-SEAL developed its new One Week Concrete Cure and Seal System to be technically superior and practical for new concrete contractors.
V-SEAL's One Week Cure and Seal System includes V-SEAL 101 or 102 and the newly introduced sealer enhancer, Phase II. Phase II can be applied anytime after 7 days of a new concrete pour, without power washing or stripping, to concrete cured with V-SEAL. Phase II clots minute pores which may develop during the initial days of concrete curing and fortifies the creation of calcium silicate hydrate – the strength component of Portland cement. Curing with V-SEAL and fortifying with Phase II is like filling a bucket with golf balls and then re-filling it with bb's. Compared to the older method, curing with V-SEAL and fortifying with Phase II is easier, faster, less expensive, and results in unmatched concrete surface strength and moisture repellence.
The Portland Cement Association identifies 5 concrete deterioration mechanisms – abrasion, alkali silica reaction, freeze/thaw, chemical intrusion and corrosion of reinforcing metals. V-SEAL consolidates concrete surfaces to minimize abrasion and repels moisture which is the trigger mechanism for the other four forms of deterioration.
In addition to curing agents, V-SEAL Concrete Sealers offers the most extensive line of concrete sealing products found anywhere. Sealing products include V-SEAL penetrating sealers, Industra-Gloss acrylic sealers, Industra-Seal lithium densifier and silane/siloxane, and Industra-Coat epoxy/urethane systems. V-SEAL Concrete Sealers also distributes products from other leading national manufacturers like Dayton Superior, BASF, Prosoco, and Richard James Specialty Chemical.
V-SEAL Concrete Sealer Products can be found at vseal.com or by calling (877) 738-7325.
###