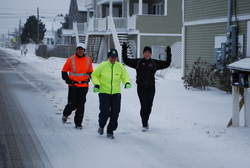 "It's important to remember that running 26.2 miles is nothing compared to what people diagnosed with cancer go through."
Andover, MA (PRWEB) February 19, 2010
Julie Foley, Director of Client Services at Effective Student Marketing, is participating in the National Marathon to Finish Breast Cancer on February 21, 2010. She's raising money and running 26.2 miles to support this cause.
Foley takes the battle against breast cancer very seriously. After her mother was diagnosed nine years ago, she made a personal commitment to participate in a fundraising event for the cause every year. She's been involved in events like the American Cancer Society's Making Strides walk and the Susan G. Komen 3 day, 60 mile walk. She considers this marathon to be the biggest undertaking yet, and it came at a time when she was personally affected by breast cancer for a second time.
"My cousin, who is only 34 years old, was recently diagnosed with breast cancer. I am running this marathon in honor of her, and my mother, and everyone else who has been touched by this disease," Foley explained.
Training for a marathon in the middle of New England's winter season is not an easy task. Foley has had to run in every weather condition, from sleet to snow to freezing temperatures. But through it all she has kept a positive attitude.
"Sometimes it's cold or snowy or I just don't want to run, but I think of how strong people like my mother and cousin are and I keep on moving," Foley said. "It's important to remember that running 26.2 miles is nothing compared to what people diagnosed with cancer go through."
The marathon is more than a battle against breast cancer though. 11 months ago, Foley found herself in the hospital with five broken ribs and a punctured lung after a skiing accident. She spent six months recovering, barely able to walk or talk without losing her breath. Now she's getting ready to fly to Florida and run in the National Marathon to Finish Breast Cancer. But, she remains modest about her ordeal. Rather than focus on her own accomplishments, Foley is focusing on those who have battled cancer, and will be wearing a shirt filled with their names.
"I will wear many names on my shirt, in honor of all of my heroes who have fought and are fighting this disease," Foley said. "Every time I put on my sneakers and head out the door, I keep my loved ones very close to my heart."
Andy Kelley, President of Effective Student Marketing, is honored to have an employee like Foley on his team.
"I'm so impressed by everything that Julie has accomplished in the past year. I was there when she was injured, and to see her now, able to run this marathon, is truly inspiring," Kelley said. "We are supporting her every step of the way, and are so excited to see her cross the finish line on Sunday!"
26.2 Miles With Donna – The National Marathon to Finish Breast Cancer is being held on Sunday, February 21, 2010. The mission of this event is to raise funds for ground breaking breast cancer research and empower women living with breast cancer. The day will also include a half marathon and a relay race. To date, Foley has personally raised $2,000 for this event.
To find out more about the 26.2 With Donna event or donate to Foley's fundraising campaign please visit http://donate.breastcancermarathon.com/2010marathon/juliefoley.
If you are interested in hearing about Foley's progress at the marathon, you can follow @EffectiveSM on Twitter. Effective Student Marketing will be tweeting photos and updates from Foley, live from the event.
About Effective Student Marketing:
Effective Student Marketing, Inc. is a strategic marketing organization that specializes in generating student leads and enrollments for career, technical, and vocational schools across the country through the use of internet marketing tools and techniques.
The team at ESM combines experience working on the school-side with skills in the latest technology to create programs that can meet any school's needs. Marketing and recruitment programs can include online reputation management, social media marketing, cost per lead vendor management, search engine advertising, and e-newsletter production and distribution.
Find ESM on Facebook
Follow ESM on Twitter
Connect with ESM on LinkedIn
Contact Information:
Cassandra Viau
Social Media and Communications
978-475-0880
cviau(at)effectivestudentmarketing(dot)com
http://www.effectivestudentmarketing.com
###