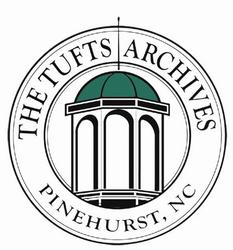 Southern Pines, NC (Vocus) February 23, 2010
The Convention & Visitors Bureau of Pinehurst, Southern Pines, and Aberdeen NC (CVB), working in partnership with the Tufts Archives (http://www.tuftsarchives.org ), unveiled what will prove to be a very popular guide for guests to the area: " The Village of Pinehurst: An Historic Walking Tour." The 136 page, hard-bound covered book features 58 key historic buildings (residential and commercial) in the village of Pinehurst, complete with architectural description, historic overview, detailed color-coded maps, and past and present photography of each structure.
The tour is broken down into five walking routes and one driving route, making it easier for users to customize their tours and to tour at their leisure. The book will provide a great way for visitors to learn more about the history of the village and comfortably explore one of Frederick Law Olmsted firm's great landscape designs.
When James Walker Tufts found his ideal location in the Sandhills of North Carolina to establish a winter retreat for Northerners instead of traveling all the way to Florida, he hired the firm started by Frederic Law Olmsted, the country's most prominent landscape architect and design firm at the time, to plan the resort village. For a contract price of $300, the Olmsted firm designed a village that was typically New England with curving, twisting roads leading from a central village green. Architects from Boston designed the hotels, boarding houses and cottages. On December 31, 1895, the Holly Inn, in the newly-named Village of Pinehurst, welcomed its first guests. Today's walking tour book includes many of the cottages that were part of the original village as well as the inns and other significant buildings.
Each route is color coded and takes its name from the promenade road featured in that grouping, including: the Magnolia Route, Cherokee Route, Dogwood Route, Village Green Route, and Perimeter Route (driving). The book is available from local hotels and retailers as well as the CVB (http://www.homeofgolf.com/visitors/whatsnew/index.htm) and the Tufts Archives. A portion of the proceeds will go to Tufts Archives.
In 1996 the U.S. Department of Interior designated the Village of Pinehurst as a National Historic Landmark based on its significance in the history of golf and landscape design in the United States.
###