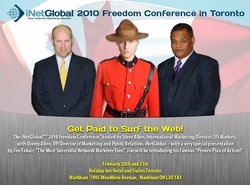 (Vocus) February 19, 2010
On Saturday, February 20th and Sunday, February 21st, The iNetGlobal™ 2010 Freedom Conference "International" will be held in Toronto, Canada. The iNetGlobal™ 2010 Freedom Conference "International" will showcase iNetGlobal's™ exclusive services and products. iNetGlobal's™ New Media marketing "Dream Team" will present "top-notch" Internet solutions for cyber business professionals.
This iNetGlobal™ conference will be hosted by Steve Allen, International Marketing Director (US Markets) with a special presentation by Donny Allen, Director of Marketing and Public Relations who will present V-Newswire™ and V-Local™.
"This is a great opportunity to introduce V-Newswire™ to the Toronto marketplace. iNetGlobal™ provides the best in online marketing and advertising—with over 60,000 members we look forward to presenting iNetGlobal's™ online business opportunities," explains Donny Allen VP/Director of Marketing and Public Relations.
Also at this conference, special guest speaker Jim Fobair – the most successful network marketer ever, will talk about his famous "Proven Plan of Action."
The iNetGlobal™ 2010 Freedom Conference World Tour International will present special opportunities and training on iNetGlobal's™ exclusive members services.
*Lunch will be provided both days to registered participants. Interested persons are encouraged to come early, as registration starts at 8:15 am.
The 2010 iNetGlobal™ Freedom Conference starts at 9:00 a.m. both days (EST)
You can also view the conference via the Internet at http://www.inetglobal.com.
The Saturday Morning Session (Opportunity Meeting) is FREE to all Members and Guests to attend. *Tickets are available for $50 at the door for the Training Meeting. All Access VIP Tickets are $100 (Participants will need tickets to attend the Training Sessions on Saturday Afternoon. The VIP Dinner Saturday Night is for Blue and Black Diamond members who have registered for the conference.
The iNetGlobal™ 2010 Freedom Conference "International" will be held at the Holiday Inn Hotel and Suites, located at 7095 Woodbine Avenue, Markham, ON- L3R 1A3, from 9:00 am- 5:00 pm. (Registration starts at 8:15 a.m.)
About iNetGlobal™:
iNetGlobal™ is a global Internet Service Company that provides essential services for its target market—entrepreneurs, home-based business, small businesses, and corporations—all those who need to market on the Internet. These "V" core services include—V-Webs™, V-Newswire™, V-Local™, V-Webcast™ and V-Shops™ - in addition to its online advertising services make up the bulk of the company's business. Following its humble beginnings in 2006, iNetGlobal finally perfected what is now its current product lineup in July 2008. Since introducing the iNetGlobal™ services, the company has become one of the fastest growing Internet service companies in the world.
iNetGlobal™, its products and services, are a division of the Inter-Mark Corporation™, Las Vegas Nevada.
For more information call (612) 986-0010.
# # #