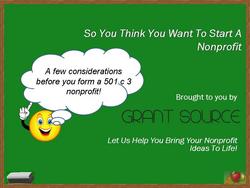 "Help aspiring social entrepreneurs turn their social ideas into profit generating businesses"
Snellville, GA (PRWEB) February 26, 2010
According to IRS.gov, of the estimated 727,000 nonprofit exempt organizations eligible to receive tax deductible gifts in 2009, roughly 55%, or 402,000, reported zero income for the year. Another 1% (about 10,000) reported income between $1 and $2,999 for the year. To help these and soon-to-be start-ups improve their bottom lines, Grant Source has recently redesigned its website to be an information hub for aspiring social entrepreneurs.
The website uses social networking sites like Linked-In, facebook, and YouTube, to engage its audience. It features blogs, funding announcements, best practices, document samples, frequently asked questions, and fundraising tips. Individuals who are thinking about starting a nonprofit program can learn the basics about the business model before jumping all-in.
The newest feature of the website is the online lecture training series. These on-demand trainings provide basic information about how to plan a profitable nonprofit business venture. They also provide alternatives for those who decide against this structure. Real-world examples, charts, and case studies help make theoretical concepts easy to understand.
The trainings are narrated lectures using Microsoft PowerPoint and can be found in the Online Nonprofit Training Library. Before purchasing, visitors can listen to introduction segments for free. Windows Media Player is required. Current available topics include:

So You Think You Want to Start a Nonprofit? – This training provides an overview of what it means to be nonprofit, what it takes to develop a successful, social based business, and how to determine if the idea is likely to be profitable
20 Ways to Diversify Your Fundraising Strategy - Originally delivered at the Foundation Center - Atlanta, this training explains the nonprofit business model and suggests 20 plus ways to generate income
Grant Writing 101 – Viewers learn about what funders are looking for in grant proposals and how to create a compelling statement of support
Grants to Individuals: Dispelling the Myths – Learning how to search for grants, the truth about who qualifies for grant monies, and the types and sources of grants given to individuals, viewers will learn to recognize trick advertisements and be empowered to conduct grant searches on their own
All workshops are affordably priced at $9.00 each so that people can spend a little to learn a lot and, in the process, avoid some of the most common made mistakes.
About Grant Source
Established in 2007, Grant Source is a consulting company that provides one-on-one nonprofit business coaching, live and online training, grant writing consulting, and web-based resources to start-up and established groups. The company has helped a numerous groups raise over $515,000 since its inception. The owner and founder of the company, Chataun R. Denis, has worked in the sector for 17 years and has helped raise over $1.5 million for a variety of charitable causes.
Given the high number of existing under-performing nonprofits, Grant Source seeks to help aspiring social entrepreneurs turn their social ideas into profit generating businesses. To learn more about how you can earn a living, living your passion, visit Grant Source's website at http://grantsource1.com, or call (770) 621-5817 to speak with a consultant.
# # #