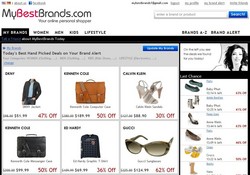 MyBestBrands.com let's you know when your favorite brands are on sale, often up to 70% off.
San Francisco, CA (PRWEB) February 25, 2010
MyBestBrands.com, an online personal shopping service for discount fashion and lifestyle products, today announces the U.S. launch of its popular discount shopping website. With over 600,000 members throughout Europe, MyBestBrands.com is a free service that offers convenience and savings on hundreds of name-brand items. Members simply signup, select their favorite brands, and then receive email alerts whenever those brands are discounted.
"We are passionate shoppers who have turned our hobby into our profession," says Christopher Inman, Managing Director of U.S. Operations. "Each of our Editors specialize in a specific product category, such as Fashion or Home Décor, and enjoys researching and negotiating exclusive discounts on behalf of our Members."
MyBestBrands partners with over 300 online shops and shopping clubs. With hundreds of thousands of products to choose from, the MyBestBrands Editors exhaustively research and negotiate deep discounts on the brands Members want. "MyBestBrands.com finds the best deals on your favorite brands," says Inman.
There are no membership fees and no hidden costs. Members can easily subscribe and unsubscribe at any time.
MyBestBrands.com updates the latest bargains every day. Many of these bargains are for a limited-time period, and can be as high as 70% off. All bargain brands are in-style, up-to-date, and in-demand. "These are not last-year's fashions," says Inman.
The MyBestBrands.com website is organized by category for fast and easy browsing. And when logged in, Members view their favorite brands on a personalized home page. This saves time and, ultimately, money. "It´s like strolling through an outlet mall, where all of your favorite brands are on-sale and in one place," says Inman.
Members can also take comfort in the fact that a brand alert email can also be sent to them announcing when their brands are discounted. "This functionality is extremely efficient, and is especially appreciated among our Members," says Inman.
MyBestbrands.com is free, and everyone can join. For more information, visit http://www.MyBestBrands.com
###