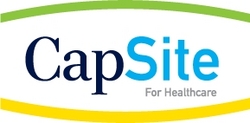 Nearly 70% of the physicians in the U.S can be found in groups or practices with 10 or few physicians.
Williston, VT (PRWEB) February 19, 2010
CapSite™ has announced the release of the 2010 U.S. Ambulatory EHR Study, a strategic analysis of the U.S. Ambulatory EHR market in response to the Health Information Technology for Economic and Clinical Health (HITECH) component of the American Recovery and Reinvestment (ARRA) Act.
As recently presented at the Piper Jaffray 21st Annual Health Care Conference in New York, the report analyzes a number of Ambulatory EHR market segments, including:

Ambulatory EHR adoption levels and market opportunity by market segment
Recent Ambulatory EHR purchase levels and segment breakdown of hospital owned and non-hospital owned physician groups/practices
Purchase outlook for new Ambulatory EHR solutions, as well as new e-Prescribing and Document Management solutions
Market share indicators
Strategies to achieve "Meaningful Use"
"Nearly 70% of the physicians in the U.S can be found in groups or practices with 10 or few physicians. Based on our findings of the current EHR adoption levels in this segment, combined with the strong indications to purchase, we see an opportunity of over $1 billion in net new business in the 10 or fewer physician space," said CapSite's Director of Research Brendan FitzGerald.
The 2010 U.S. Ambulatory EHR Study is a survey of over 1,000 group practices, outpatient clinics, urgent care centers, and other healthcare facilities. Respondents were asked about their recent Ambulatory EHR (Electronic Health Records) purchases, including purchase timeframe, which vendors they purchased from, and future purchase plans. Respondents also provided information on their strategies to achieve and document "Meaningful Use", their considerations to replace existing PM/EHR solutions, and other important aspects of their decision making in the EHR field.
About CapSite™
CapSite™ is a healthcare technology research and advisory firm. Our mission is to help our healthcare vendor and provider clients make more informed strategic decisions that enable them to accelerate the growth of their business.
The CapSite™ database is the trusted, easy-to-use online resource, providing critical knowledge and evidence-based information on healthcare technology purchases. CapSite™ provides detailed transparency on healthcare technology positioning, pricing, packaging, and terms and conditions.
When it comes to healthcare technology research, it helps to see all the details. Those details are now available with CapSite™.
To request the Table of Contents, email us at reports@capsite.com.
Contact:
802.383.0675
http://www.capsite.com
CapSite™ is a division of Fletcher/CSI
###