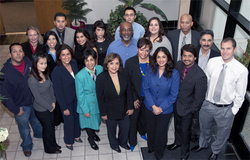 To inspire vision; to create brilliance; and to achieve success
Diamond Bar, Calif. (PRWEB) February 19, 2010
California InterContinental University President and CEO, Dr. Senthil Kumar, has announced that the first KDay of the year shall forever be CalU Diversity Day.
Workplace diversity refers to the extent in which an organization is culturally diverse. Cultural diversity includes the range of ways in which people experience a unique group identity, which includes gender, sexual orientation, race, ethnic and age. Diversity is beneficial to both the organization and its members. Diversity brings substantial potential benefits, such as, better decision making, improved problem solving, greater creativity and innovation; which leads to enhanced product development, and more successful marketing to different types of customers.
Dr. Senthil Kumar has long been a believer that diversity in the workplace creates a vast array of benefits for any company, especially a global university like CalUniversity. With Board Members, Faculty and Staff hailing from an unheard of 5 different continents, California InterContinental University has long been the model of workplace diversity.
At the recent January 2010 KDay, or Knowledge Day, Dr. Kumar delivered an exceptional message regarding the value of diversity in not only the workplace, but in the social fabric of the modern world. KDay, is the day in which the CalU organization comes together to reflect, honor, plan, and most importantly, transfer knowledge. Also announced at the celebration was the creation of a new award designated to the staff member who provides the highest quality of service. This award is to be titled "The Quality Service Excellence Award" and is to be given to the staff member who receives the most acknowledgments from students, applicants, potential students and all other business contacts.
At the conclusion of the K-Day event, Dr. Kumar, reminded the attendees that although the situation in Haiti may appear hopeless and may require unbelievably huge monetary support and resources to rebuild the country, we should always remember that every small contribution will eventually make a big difference. Dr Kumar went on to convey, "Sometimes in our own households, a plant may look dead and ready to be discarded when in reality all it needs is just a little water to flourish." He further requested CalU management team, staff, faculty members and students to generously contribute directly to Haiti fund via the CalU website, who is partnered with the American Red Cross, at their own capacity, as he pledged to match the total amount donated.
About CalUniversity
As a fast growing online institution, California InterContinental University strives to achieve academic excellence and career development for students by applying its founding philosophy: "To inspire vision; to create brilliance; and to achieve success". The University has embraced diversity among its faculty and staff, as well as the diverse range of students across the world.
Students seeking more information about the programs, emphasis, and accreditation should contact California InterContinental University toll-free at 1-866-687-2258, or visit the University's website at http://www.CalUniversity.com
Contact:
Daniel Valeriano
1470 Valley Vista Drive, Suite 150
Diamond Bar, CA
Ph: 866-687-2258
###