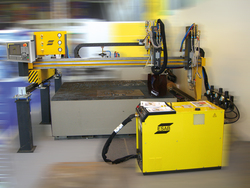 Florence, SC (PRWEB) February 24, 2010
ESAB Cutting Systems introduces the Falcon FXA small gantry cutting machine. The Falcon FXA features a rugged gantry design and excellent cutting performance in a low-cost, feature-packed system. With a heavy-duty gantry, rack-and-pinion drives, digital AC drive amplifiers and AC brushless motors, the Falcon FXA brings solid performance and durability to small shops or first-time buyers.
The Falcon FXA comes standard-equipped with three tools, including two oxy-fuel torches and one plasma, and covers a 6' by 12' working area. These process tools allow this machine to process stainless steel or aluminum plates up to 1 inch (25 mm) thick or carbon steel plates up to 6" (150 mm) thick. Plates up to 6' (2 m) wide and up to 12 ft. (4 m) long can be cut on either water or down-draft cutting tables. The Falcon FXA can carry ESAB plasma systems from simple 60 Amp air plasma up to 200 Amp dual-gas, water-cooled plasma systems.
The plasma station includes Arc Voltage Height Control for accurate cutting, and a magnetic break-away crash protection system prevents torch damage in case of tipped parts. The heavy-duty torch lifter features a linear rail for stability and provides 8 inches (200 mm) of vertical stroke.
The two oxy-fuel stations feature heavy-duty torch lifters, the Oxweld® C-67 or C-39 torch, capacitive Automatic Height Control, and pilot flame torch ignitors. The gas controls feature automatic High/Low Preheat switching and pierce rate control, allowing the cutting oxygen pressure to ramp while piercing thick material. A stainless steel band allows quick and easy clamping of each tool station, and automatic torch ignitors eliminate the need to reach over a hot plate to light the torch.
Designed for years of production cutting, the Falcon FXA uses heavy-duty components to ensure a long service life even in the most demanding environments. The rugged gantry features all-steel construction with machined mating surfaces for stiffness and accuracy. Triple machined T-rails provide smooth, accurate motion. Precision drive racks are mounted directly to machined surfaces. The main beam is welded, stress relieved, and machined straight within a few thousandths of an inch. Heavy-duty, low-backlash gearboxes ensure accuracy and long life. The outboard rail is mounted lower for protection and to allow unobstructed access to the cutting table.
The Falcon FXA also features the Vision 51 controller, featuring a color-coded graphical user interface for ease of operation. An ergonomic tilt & swivel mount gives instant access to the controls you need. The Falcon FXA provides everything necessary to handle most common cutting tasks quickly and economically.
With more than 100 years of experience, ESAB Welding & Cutting Products is one of the world's largest and most skilled manufacturers of welding and cutting equipment and welding filler metals. Recognized as the technological leader in the industry, ESAB is committed to providing customized solutions for their customers. For more information on the company, visit http://www.esabna.com, http://www.esabcutting.com or call 1-800-ESAB123.
###