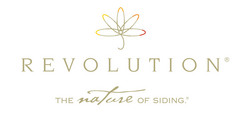 "Revolution is designed for the extreme weather in the Houston market. It meets our client's need for siding that is beautiful, easy to maintain, and has the look and feel of wood. It also is engineered to withstand a hurricane force winds that we encou
Houston, TX (PRWEB) February 20, 2010
In answer to Houston homeowner demands for siding that has a natural appearance and is low in maintenance, Gulf Coast Siding introduces its exclusive Revolution siding line. The composite siding blends natural wood ingredients with structural polymers to give new homes and remodeling projects a durable finish that stands above the rest.
Builders and homeowners can increase their bottom line by offering the Revolution because this siding is environmentally friendly, feels like wood and requires no time-consuming priming, painting, staining or caulking. "Revolution is designed for the extreme weather in the Houston market. It meets our client's need for siding that is beautiful, easy to maintain, and has the look and feel of wood. It also is engineered to withstand a hurricane force winds that we encounter in Texas" said James M. Fiume, President and CEO of Gulf Coast Siding, Inc.
Long-lasting Durability and Green Attributes
With Revolution siding, homeowners gain maintenance-free curb appeal and the advantages of state-of-the-art construction and exceptional durability. Revolution's patent-pending formulation of high-quality wood fibers and engineered polymers is highly moisture resistant, making it resilient to the strongest downpour. And its advanced co-polymer properties resist cracking and breaking.
Made of 50% virgin material and 50% recycled content, Revolution satisfies growing homeowner demand for green products and positions builders and homeowners as active participants in the green movement. The wood core of the composite siding carries the EnviroSmart designation for its renewable resources and for not contributing to environmental degradation or long-term depletion of natural resources. Revolution is also silica free and meets guidelines established by green building certification programs.
Revolution's rigid wood and polymer core construction makes it extremely impact resistant to hail and accidental impact. In terms of durability, Revolution outperformed both fiber cement and real cedar in laboratory tests. The siding also has a top layer polymer finish called PermaFinish that resists even the harshest weather and keeps color true.
Leading-edge Design Features
Revolution features a variety of leading-edge design characteristics that will satisfy homeowners and save builders time and money. Its patented SeamTight joining and clip system allows panels to float, which helps hide irregularities in the walls. Its StackLock vertical joining system keeps the siding securely fastened in place – in independent tests, Revolution withstood winds in excess of a Category 5 force hurricane.
These features combine to create long beautiful course lines with no unsightly seams, nail holes or the resulting cracks. Revolution requires only standard installation tools for a job that's completed quickly and easily.
The Beauty of Freshly Painted Wood
Revolution has all of the appeal of freshly painted wood with no priming, painting or staining or the cost and mess associated with these coatings. The siding features the texture and shading of natural wood grain, which adds depth and dimension for a beautiful finished appearance. The high clapboard profile of Revolution casts deep shadows when exposed to the sun, creating beautiful contrast and enhanced curb appeal. Plank sizes include a Single 7" clapboard design with 6 7/8" exposure and an optimal length of 12' 6".
Revolution is available in Texas exclusively through Gulf Coast Siding, and is backed by a lifetime limited transferable warranty. This "revolutionary" siding is offered in a color palette that is inspired by nature. Colors include Glacier White, Antique Parchment, Platinum Gray, Cape Cod Gray, Coastal Sage, Adobe Cream, Monterey Sand, Vintage Wicker and Tuscan Clay. It comes in a matte finish that exemplifies finished wood.
Gulf Coast Siding is a subsidiary of Gulf Coast Windows founded in 1980, we are the oldest and largest one-step distributor of windows, doors and now siding in Texas. Headquartered in Houston, Texas the Gulf Coast Windows and Siding companies are proud to have over 27,000 satisfied customers. Gulf Coast Siding products are available nationally and internationally to licensed home building professionals and homeowners through the company's factory trained sales and installation professionals. Visit us on the web at http://www.gulfcoastsiding.com.
Contact Information:
David B. Hatcher II, COO
(713) 849-5454
# # #