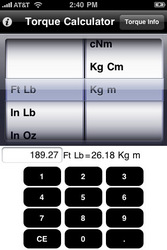 It's very simple and extremely powerful.
San Diego, CA (PRWEB) February 22, 2010
Flexible Assembly Systems announces the release of their Torque Calculator App for the Apple iPhone and iTouch. The innovative torque application is the first of its kind and is free for a limited time at the Apple App store on iTunes.
The Flexible Assembly Torque Calculator app is perfect for converting torque measurements such as Ft Lb to In Lb, In Oz, Nm and other torque measurements. It also provides valuable torque information such as: definitions, abbreviations, screw torque values, and types of joints and more.
Eddie Silverberg, president at Flexible Assembly Systems spearheaded the development of this indispensable torque tool for the Apple iPhone. As a leader in the torque tool industry, Mr. Silverberg set out to put together a simple yet powerful torque calculator that would unleash a wealth of torque information using the Apple iPhone.
Mr. Silverberg is extremely excited about their latest offering and states, "It's very simple and extremely powerful. We have already received over 1100 downloads in a very short period of time. The feedback we're getting from users has been overwhelmingly positive. The Torque Calculator app is one of a kind and it's FREE so I encourage everyone to try it out and give us your feedback on new features you would like to see on the next software update."
For more information on the Flexible Assembly Torque Calculator please visit http://www.flexibleassembly.com/Torque-Calculator
About Flexible Assembly Systems:
Flexible Assembly Systems Inc., headquartered in San Diego, CA, is a leading distributor and supplier of light industry assembly tools and systems solutions worldwide since 2003. The company's product list is extensive, and includes Electric Torque Screwdrivers, Assembly Tools, Robotic Assembly, Automotive Tools, Torque Testers, Torque Products, Bits and Fastener Systems, Workplace and ESD Systems, and Material Handling Systems.
For additional information, contact:
Jaime Hernandez
Flexible Assembly Systems
800.696.7614
http://www.FlexibleAssembly.com
###