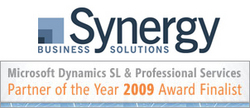 Synergy focuses exclusively on Dynamics SL and their expertise in project management and accounting and job costing will serve our clients extremely well.
Seattle, WA (PRWEB) February 22, 2010
Synergy Business Solutions announced today it has acquired the Microsoft Dynamics SL practice of Rose Business Solutions, a business technology and solutions provider based in San Diego, California. The move was necessary due to a change in Rose Business Solutions' business direction.
Microsoft Dynamics SL is integrated financial- and project-accounting software, particularly suited for project-driven organizations. It empowers companies to improve their project management, job costing, cash flow, financial reporting, collaboration, and critical decision making.
"We wanted to ensure our Dynamics SL clients continued to get the same superior service we provided them over the years," said Linda Rose, CEO of Rose Business Solutions. "After evaluating all our options, we chose Synergy Business Solutions to take over our SL clients' service and support. Synergy focuses exclusively on Dynamics SL and their expertise in project management and accounting and job costing will serve our clients extremely well."
"We are delighted to have acquired these Dynamics SL clients and be able to support their businesses," said Jered Cady, Executive Vice President of Synergy Business Solutions. "With our growing staff of Dynamics SL consultants, including those based in our North San Diego office, we are in a great position to serve all our California clients."
About Synergy Business Solutions
A Microsoft Gold Certified Partner with operations up and down the U.S. West Coast, Synergy Business Solutions provides comprehensive software solutions to companies primarily doing project-based work, typically architects, engineers, contractors, research, biotechnology, pharmaceutical, professional services, and make-to-order manufacturing firms. Through implementing Microsoft Dynamics SL, Synergy helps organizations that have outgrown their systems and procedures or identified cumbersome processes, to operate more efficiently while effectively managing projects, resources, time, financials, and growth. Synergy's method of prototyping systems with real company data allows organizations to see how Dynamics SL can meet their business needs before they purchase. To learn what Synergy recommends to streamline project operations, read Stop the Pain: 7 Smart Project Management and Accounting Procedures that Work, visit http://www.synergybusiness.com, or call 800-481-8590.
About Rose Business Solutions, Inc.
Founded in 1991 with offices in San Diego and Los Angeles, Rose Business Solutions is an award-winning business systems and implementation group in Southern California. It has assisted hundreds of small and mid-sized companies in implementing Microsoft Business Solutions and Information Worker applications. With a highly skilled and experienced staff of certified accountants and industry professionals, Rose Business Solutions distinguishes itself from other value-added resellers through its high commitment to customer service. For more information about Rose Business Solutions, visit http://www.rosebizinc.com.
###