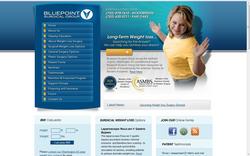 People have struggled with every type of diet imaginable. People that use weight loss surgery as a tool know that it will take work. There is a whole process that goes along with this. People have to know their lives have to change after surgery.
Fairfax, VA (Vocus) February 19, 2010
A few years ago, Amy Barnes weighed 490 pounds. At 30 years old, she was on a very rapid downward spiral heading to severe health problems that can be brought on by morbid obesity. She decided she'd had enough. Through a rigorous diet and exercise program, Barnes spent the next 4 and ½ years losing 339 pounds and getting her life and her health back on track. Since losing the weight, she now owns her own fitness company, Inside & O.U.T. Fitness, and works as a personal trainer with the Bluepoint Surgical Group, a practice offering weight loss surgery procedures such as the LAP-BAND® System in Northern Virginia and Washington, DC. After a recent appearance on NBC's Today Show as part of the Joy Fit Club; a spread on the cover of Oxygen Magazine's special edition, Off the Couch!; and several other media appearances, Barnes says she experienced somewhat of a backlash. And now she is setting the record straight.
"After the articles and appearances, people started commenting on my association with a bariatric surgery practice, assuming that I lost all of the weight because I'd had weight loss surgery. There are two problems with this. First, I did not have weight loss surgery. I lost 339 pounds through a very hard diet and exercise routine. Second, critical comments like that further stigmatize surgical weight loss treatment and illustrate the negative opinion many people have regarding patients who undergo bariatric surgery to help them lose weight." In fact, Barnes says that stigma is the larger issue that's come to the forefront after her experience. At Bluepoint Surgical Group, Barnes works as part of a comprehensive program designed to help Washington, DC-area bariatric surgery patients fight morbid obesity. As a personal trainer, she develops exercise regimens for patients to utilize after they've undergone the procedure, regimens that will need to be followed accordingly in order for the patient to lose weight as successfully as possible. Barnes says weight loss surgery is not a magic cure - and it's only the beginning. "Surgery is a tool. People can choose whether they use it as a magic cure or a tool. People who look at it as a cure will fail, and inevitably gain the weight back. People who see surgery as a tool will use it to identify the root cause of their condition and change their lifestyles for the rest of their lives."
Barnes says one of the biggest misconceptions about weight loss surgery is that it won't really require much for the patient to do except undergo the surgery and start losing the weight. She says nothing could be farther from the truth. "People have struggled with every type of diet imaginable. People that use weight loss surgery as a tool know that it will take work. There is a whole process that goes along with this. People have to know their lives have to change after surgery." Typical bariatric surgery procedures are just one step in a series of major changes a person will have to make to lose weight. Those include dramatic alterations in eating habits and a commitment to exercise. And Barnes says people who undergo surgery to fight morbid obesity are often those who feel they have no other option. "Once you reach a certain point, such as being 300 pounds overweight, it's often desperation. You've tried everything else. Surgery is often the last resort."
After losing her own weight through traditional means, Barnes says she has committed herself to helping others fight obesity whether by surgical means or not. But, she says, the clear point she wants to make is that those who undergo bariatric surgery are not taking an easy way out. In fact, she says, they are fighters in the truest sense of the word. "I think about my clients who are struggling even after surgery. It takes work. People should support them for having surgery to save their lives. Shame on me if I didn't help these people."
###