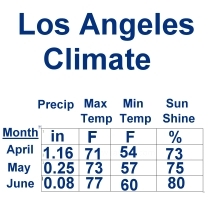 Choosing the spring season for a Los Angeles wedding can bring energy to a bride and groom's event that signifies a new beginning for the happy couple to start their lives together.
Los Angeles, CA (PRWEB) February 20, 2010
Most wedding engagements take place over the holidays and Valentines Day. Now that the ring is on the lucky lady's finger and she has said those magical words "I Do" the next step is to choose the date. A lot of brides-to-be want the traditional June wedding for their big day but April and May are also great months for a wedding. Popular months get booked early, so now is the time to begin planning that spring 2011 wedding. First, the engaged couple needs to secure their wedding ceremony site, wedding reception location and wedding vendors since most of the good ones will be booked for 2011 in the near future. Hiring preffered vendors should begin 12-18 months in advance. The next question is where does the bride start her research? She should register with a local online wedding directory such as Los Angeles Weddings. The bride can find everything for her wedding beginning with the perfect gown.
With an increased popularity of spring weddings, more brides will be searching for new and unique ideas for that special day. The best part about springtime weddings is choosing the colors for the theme of the wedding. Use spring flowers for table decorations and send invitations with spring designs and bright colors. The combination of yellow and green is very popular and choosing the right color will make a spring wedding memorable. Bridesmaids will look beautiful wearing pastel or rainbow dresses on a bright sunny spring day. The groom and groomsmen will standout in tan or black suits with stylish matching ties. Fresh flowered bouquets will highlight the entire bridal party and create a sense that "spring is in the air".
Choosing from various Los Angeles wedding photographers is a very important part of the planning check list and should not be taken lightly. A bride should make sure she hires a photographer that is experienced shooting weddings and fits her personality. Make appointments and look at their portfolios. Venue recommendations will give added credibility to the vendors.
With a springtime wedding, beautiful natural flowers and plants can be the backdrop for photos. When choosing a venue, ask where other brides have had their pictures taken. If the venue is located within the city or at a hotel, a bride might want to schedule an hour or two to take pictures at a nearby park before or after the ceremony. The photographer should be able to make suggestions.
What should the bride and groom serve their guest at the reception? The menu can be incorporated with the spring wedding theme. Seasonal vegetables and fresh fruits such as strawberries and cantaloupe are always a good beginner. Chicken breast or fresh fish with spring vegetables such as baby carrots, asparagus and red potatoes are recommended for a light wedding lunch or dinner.
Consider videography to capture those moments that are truly once in a lifetime. Researching online for Los Angeles wedding videographers can be very time saving, since most videographers have sample videos on their websites. A professional videographer can turn a bride into a movie star on her special day without being obtrusive. Watching this edited video keepsake is a great way to celebrate a wedding anniversary year after year.
Wedding entertainment is very important to the overall success of a wedding reception. The entertainment can make or break an event and a bride should allocate a fair amount of her wedding budget to the disc jockey or band. They will be in charge of keeping the event flowing smoothly and making sure the guest enjoy the celebration.
Follow these guidelines for planning a successful wedding:
Start Early - Wedding Planning should start 12-18 months before to ensure a stress free, perfect day.
Get Advice - Bride chat rooms are a good place to meet other brides and share ideas.
Get Organized - Wedding planning tools are essential to keep everything on task and for reference.
Meet The Vendors - Meet with several vendors for each category and be completely satisfied with the ones that will be sharing the special day. Once a contract is signed, most wedding deposits are non-refundable.
Have Fun - Get a free wedding website to show family and friends and keep them involved in the planning process.
Honeymoons - Mexico is the most popular honeymoon destination for Los Angeles couples. Try and avoid the spring break time frame because of the crowds and cost. Spring break rates are significantly more at most resorts. Consult a travel agent for more information. Good luck and happy planning!
# # #