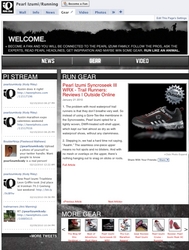 Boulder, Colorado (PRWEB) February 19, 2010
With more than 400 million active users, and 50% of those logging in everyday, Facebook, has become a very important conversational tool in a company's marketing portfolio. Add to that, with three million active Pages in Facebook - simply having a basic page design is no longer enough. Room 214 was hired by Pearl Izumi to create a unique custom Facebook Page design to deliver content and functionality that is both attractive and resonates well with their fans.
Key Facts

In addition to Pearl Izumi's more traditional customer service channels, Pearl is now engaging customers through social media such as Twitter, Facebook, blogs and discussion boards. The goal of the new Facebook tabs is simple – make the company more accessible to its consumers while simultaneously engaging them with relevant and interesting content.
From a technical standpoint, Pearl Izumi's new custom tabs on both its Running and Cycling pages feature a java script enabled transition for navigating news articles, product reviews or videos. Pearl's Facebook pages are one of the few out there using this technology.
Another feature worth mentioning is the article carousel at the bottom of the custom tabs. The carousel allows for quick and easy navigation to specific articles.
Amidst all the changes Facebook is pushing through these days, PI's custom tabs were built ready for the rapidly ensuing conversion from 720 pixels to 520 pixels.
Supporting Quotes
"Our 214 Apps Facebook development team applied new and innovative techniques to feature content and drive fan engagement that fit well into Pearl Izumi's vision of its Facebook community." -- James Clark, Co-Founder, Room 214
"Pearl Izumi's focus has always been to push the limits in regards to our products, marketing and design. We believe what Room 214 was able to accomplish is spot on for our brand." -- Geoff Shaffer, Marketing Director, Pearl Izumi
Supporting Resources

# # #