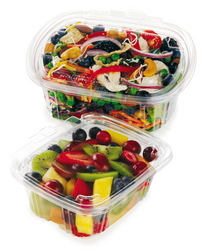 The new Tamper-Resistant™ Rectangles offer a better tamper-resistant and leak resistant seal than what's currently available.
Vernon, Calif. (PRWEB) February 23, 2010
February 23, 2010 - PWP Industries (pwpindustries.com) is offering retailers an opportunity to lock out tampering and lock in freshness with the introduction of its new Tamper-Resistant™ rectangular containers. The innovative, patented design of the containers not only help improve safety by minimizing risk of food tampering but also lock in product freshness and reduce messy spills due to its leak resistant air-tight seal.
The product features of the new tamper-resistant product line don't end there. According to Ira Maroofian, President & COO, PWP Industries, the Tamper-Resistant™ Rectangles offer better functionality to the competition's current industry offering since the containers have no loose pieces to throw away, eliminating safety concerns such as choking hazards. The sleek, modern design also does away with the need for shrink bands or wrap around labels eliminating the bands from ending up in landfills. Heat tunnels for shrink band application are no longer required.
As a rapidly growing leader in innovative thermoformed plastic food packaging and an industry leader in environmental stewardship, PWP is producing this new product line with a minimum of 25 percent FDA-compliant Post-Consumer Recycled PETE (PCR) which is produced in PWP's own facility. PWP is working with Coca-Cola Recycling LLC to transform Post-Consumer Recycled PETE bottles into FDA-compliant food packaging.
PWP is fully committed to REDUCE-REUSE-RECYCLE. Annualized, this new product line will help:
1. Eliminate 750 tons of Carbon Dioxide (CO2) or the equivalent of the CO2 45,000 passenger cars produce in a day
2. Save 9,750 kilowatt hours of energy or enough to power the city of Orlando, FL for one day
3. Use 25,222,204 16.9 Oz PETE bottles which would have gone into a landfill. This saves 2 football fields one foot high of landfill space
"In today's competitive marketplace, retailers are looking for products that offer multiple benefits to themselves and their customers," said Maroofian. "The new Tamper-Resistant™ Rectangles offer a better tamper-resistant and leak resistant seal than what's currently available. Plus PWP is helping to reduce the environmental impact by using recycled materials previously destined for landfills. This product line is just another example of our continued commitment to sustainable business practices."
Designed for secure stacking to allow easy handling, display and transport, the Tamper-Resistant™ Rectangles are ideal for a variety of foods such as deli, produce, bakery, confectionery and grocery. And with the option to display the product on its side and a large window panel for brand identity and better view of the product, PWP has created a product that is great for merchandising. Another added benefit is the vent slots on the bottom of the container that allow for better cooling and extend product shelf life.
Tamper-Resistant™ Rectangles are currently available in two footprints with rectangular sizes ranging from 8 ounces to 32 ounces. The third footprint with rectangular sizes of 48 and 64 ounces is scheduled to be available in the next few months. For more information on pricing and sales, please contact PWP Industries, toll-free (877) 700-0330.
PWP Industries, founded in 1998 by Neil Kadisha and associates, is a leading PETE and Polypropylene food packaging thermoformer in North America, with manufacturing plants located in Vernon California, Abilene Texas, Mineral Wells West Virginia and a recycling facility in Davisville West Virginia. PWP is highly regarded in the food packaging industry for producing competitively priced quality parts, superb customer service and innovative product designs. Learn more at http://www.pwpindustries.com.
###