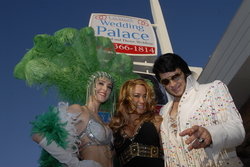 "Only in Vegas"
Las Vegas, NV (PRWEB) February 22, 2010
Now, couples can get married or renew their vows in front of a blackjack table or a slot machine. It's Vegas Baby! No real gaming, but lots of fun.
"Las Vegas Wedding Palace has traditional wedding chapels (Charming Chapel and Chapel Royale), as well as a Tropical Paradise Chapel" said general manager, Ann West. "But, we wanted something unique with a Las Vegas flair for our fourth chapel. I noticed a beautiful red wall in a local restaurant and decided there must be a reason they were using that color. Once we painted a wall in that brilliant color, everything else just fell in place."
The room now includes a blackjack table that helps the minister deal out 'winning hands' whether it's a wedding ceremony, commitment service, or vow renewal. Seating for guests is available at the well appointed high-top cocktail tables and a slot machine stands ready in the corner for great photos. (Tokens only, of course, no gaming here!)
Street lamps, craps table wall decor, and a huge mural of the Vegas skyline complete the chapel.
"Most of our guests either gasp or break out laughing when we show the Vegas Nights Chapel" added Beverley Southworth, Chapel Manager, "but it's already a favorite for many couples. We had a group wedding and a commitment ceremony in the Vegas Nights Chapel on Valentine's Day and they loved it."
Las Vegas Wedding Palace features traditional weddings, theme weddings (Think Star Wars, Renaissance, or Gangster). Plus, real Vegas style entertainment for ceremonies, with Elvis, Frank Sinatra and more. Las Vegas Wedding Palace also features Outdoor Location weddings, complete with music. Owner, Sean West, promises "if you have a dream wedding in mind, we will make it happen for you".
Contact: Sean West
Cell: 702-250-9300
Las Vegas Wedding Palace
1431 S. Las Vegas Blvd
Las Vegas, NV 89104
702-366-1814
###