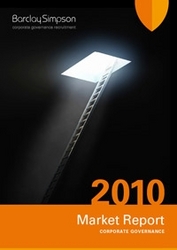 We are cautiously optimistic about the recovery that is underway within the corporate governance recruitment market.
(PRWeb UK) February 20, 2010
The information security recruitment market is showing strong signs of recovery according to a new report by corporate governance recruitment experts Barclay Simpson. Information Security was the area of corporate governance worst hit by the recession, but recruitment figures now show an increasing number of vacancies.
The report also found that typical daily rates for information security consultants fell between 10% and 20% during 2009. Most information security contractors had concerns as to whether ongoing contracts would be continued, with many freelancers turning to full-time contracts.
Barclay Simpson's free 2010 Market Report comprises a Corporate Governance Market Report and five separate reports covering the constituent markets: Information Security, Internal Audit, Risk Management, Compliance and Legal. The report reviews the events of 2009 and assesses the employment prospects for corporate governance professionals in 2010.
Vacancies were 53% higher in the second half of 2009 than in the first six months of the year. Although the current number of vacancies is 32% lower than pre-credit crunch levels, the growth in employment opportunities is continuing. This optimism is reflected in the reducing number of candidates registering as a result of redundancy or the threat of redundancy. In the last six months the amount of 'defensive registrations' has halved.
Adrian Simpson of Barclay Simpson attributes the recovery to the stabilisation of the banks and the wider economy and particularly to the high profile role that governance and regulation now play in the management of companies.
"We are cautiously optimistic about the recovery that is underway within the corporate governance recruitment market." said Simpson. "Bank failures have focused attention on their governance and regulators throughout the world are responding. It is clear that corporate governance is no longer perceived as a 'nice to have' function, but an essential business requirement. We are confident that the demand for information security professionals will continue to improve and we are already seeing staff shortages in specialist areas."
Download the Barclay Simpson 2010 Market Report free:
http://www.barclaysimpson.com/information-security-2010-market-report/
# # #