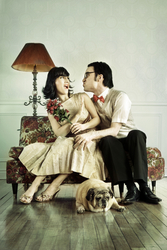 Attitudes towards extra-marital relationships are changing. Women are less comfortable about 'putting up' with a neglectful spouse
(PRWeb UK) February 23, 2010
A UK-based extra-marital dating agency has experienced a surge of female activity over the last week, as thousands of disillusioned wives take to the internet after a dismal Valentine's Day.
IllicitEncounters.com, the UK's largest extra-marital dating agency, claims that since the 14th, there has been an unexpected influx of new female profiles, totalling close to 1,000 over the last three days. The site state that, despite the fact the rate of women joining the site has increased by about 200%, the numbers of dormant female members re-engaging with the site has also risen.
"Valentine's Day this year seemed to be a particularly important day for wives everywhere." says Sara. Hartley, representative at IllicitEncounters.com "Attitudes towards extra-marital relationships are changing, and, today more than ever, women are less comfortable about 'putting up' with a neglectful spouse. These women need to feel appreciated and desired, and we hope that our site will connect them with others who can fulfil those needs."
Sharon*, 37 from Wilshire, joined the site on Monday afternoon. "My Valentine's Day was a complete washout. I booked a meal for myself and my partner, but he decided he had too much work to get done, and made me cancel the reservations. I want to believe that romance is still alive somewhere. I hope to find someone who can convince me of that."
Kate*, 42, is in a similar situation. "With all the paper hearts and teddies adorning shop windows, I was taken aback when my partner managed to forget Valentine's Day altogether. I guess I joined the website because I am lonely. Despite the fact that I am married, my husband's lack of interest in me often makes me feel isolated."
IllicitEncounters.com began in 2003, and now has over 420,000 members across the UK.
###