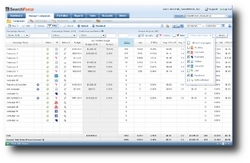 " The addition of attribution and cross channel campaign management in this release of SearchForce is a game changing event for digital marketers" - Alan Hall CEO, SCL
(PRWEB) February 19, 2010
SCL, UK and European distributor for SearchForce announces the latest release of the SearchForce Pay Per Click Bid Management and Optimisation software in Europe.
This new release introduces significant new functionality to allow digital marketers to understand, analyse and report on the effectiveness of different channels in their marketing mix. Using your existing tags, SearchForce allows you to track all clicks & conversions across media channels – display, email, social media, paid search, blogs and much more. Data will automatically appear within the campaign management screens so at a glance you can visualise the impact of your campaign. Reports of cross-channel activity can be generated using the SearchForce reporting capability.
With SearchForce's Cross-Channel Marketing Tracker an entire conversion path is captured. For example, an email, display ad and Yahoo! PPC ad may have all assisted in a single conversion on Google. With SearchForce, conversions are automatically reconciled and charted, providing a highly accurate assessment of each medium's success. This helps marketers allocate their budgets across marketing programs more effectively, ultimately leading to greater ROI.
Today's patchwork of analytics for online marketing is inaccurately measured as each action is disparate. SearchForce's Cross Channel Marketing Tracker aggregates the data into one dashboard and associated report, offering a precise, comprehensive view of how online marketing efforts cohesively drive clicks and leads. Following a one-time set up, these real-time reports are generated with the touch of a button and viewed within a single dashboard.
SearchForce enables marketers to track cross-channel activity across any specified channel or marketing media – including display ads; email; advertising on social media channels such as FaceBook and MySpace, premium paid search, as well as secondary engines (e.g.) Ask.com and LookSmart. Additionally –and unique to SearchForce—offline media can be tracked via the system, including TV advertising and direct mail campaigns.
Cross Channel Conversion Attribution
The new attribution capabilities within SearchForce allows marketers to define how to attribute the appropriate credit to clicks, within the click path, across media channels. By choosing from multiple attribution schemes this allows the online marketer to be confident that changes made to PPC bids are taking into account all clicks made and cross channel activity according to the attribution scheme that is appropriate for their business. This functionality has a major impact on the campaign ROI.
About SearchForce
Founded in 2004, SearchForce is the only company offering a truly customizable and seamlessly scalable bid optimization and campaign management platform to meet specific SEM needs and objectives. It is an internationally localized platform with support for local languages, timezones and currency. SearchForce's platform allows customers to effectively manage large-scale, paid search marketing campaigns across Google, Yahoo!, MSN to deliver higher returns at a lower cost, and with less work. The company's software is used by some of the largest online advertisers, advertising agencies and corporations around the globe.
About SCL
SCL provides innovative consulting services, training and software solutions for developing, testing, delivering and analysing business critical applications and digital marketing solutions. Our solutions are driven by our excellent technical skills and class leading products and we are passionate about exceeding our customers' expectations in terms of our skills, our solutions and the quality of our results.
###