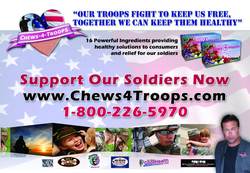 Wilmington, NC (Vocus) February 20, 2010
Chews-4-Health International has joined Stephen Baldwin (actor/author/syndicated radio host) and Kevin McCullough (bestselling author/syndicated radio host), to provide United States military service members overseas with basic daily necessities and also diet supplementation–things which may not be readily available to them at their station of duty. Beginning today, when a consumer purchases a box of Chews-4-Health daily nutritional supplements, a box will be donated in a care package sent overseas to a member of the military. As an added sentiment, Chews-4-Troops is reaching out to young students across the nation to include hand-written letters in each care package.
Retail sponsorships and consumer donations are now being accepted. For more information please visit Chews4Troops.com.
Chews-4-Health International brings you all-natural, chewable dietary supplements formulated to help you achieve a healthy lifestyle. We believe good health does not come to you, it comes from within you. Our products combine current nutritional science with nature's finest.
Chews-4-Health, our daily nutritional supplement, helps provide valuable minerals, vitamins and antioxidants that may be lacking from your diet. It's whole-food nutrition for the entire family! Trimulean is an all-natural weight reduction system which combines caloric restriction and expenditure with a supplement to support healthy weight. The advanced combination of ingredients helps to satisfy your appetite, maintain energy and promote a healthy metabolism*. As revolutionary chewable supplements, Chews-4-Health and Trimulean are more CONVENIENT, AFFORDABLE and FASTER ABSORBED. With so many pills and liquid products on the market, it's time for something better! Please visit: http://www.orderchews.com or http://www.eatlesscheatless.com.
###