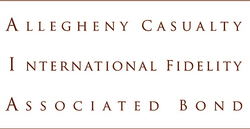 We are making moves that will have an immediate impact on our company and our agents
Calabasas, CA (PRWEB) February 22, 2010
AIA, the nation's oldest and largest bail bond insurance company, today announced a realignment of its agent management and agent development teams. .
Tom Anderson, formerly Director of Agent Services for AIA was promoted to Director of Agent Development and will oversee the agent development group. Tom has been in the bail bond industry for over 25 years and has overseen AIA's Regional Account Manager program for the past 5 years. "We are extremely proud of Tom for everything that he has done for our company and for our agents," said Brian Nairin, AIA's President and CEO. "We are making moves that will have an immediate impact on our business and our agents. With this new position, we look for Tom to play an even bigger role in the growth of our business."
Stepping into the role of Director of Agent Services will be Krissy Rogers. Krissy joined AIA in June 2009 and has over 15 years in the bail bond industry, including her tenure as Vice President of Bankers Insurance Company. Krissy will now oversee AIA's Regional Account Manager program which includes:

Ed Sheppard Southeast Region
Mary Beth Fiorentino Northeast Region
John Harrelson Midwest Region
Leisha Hicks Texas
Diane Ruano Western Region
"Krissy brings a valuable set of skills to the AIA team, and we have no doubt that, very quickly, her positive impact will be felt by both our team and our agents," adds Robert Kersnick, AIA's Senior Vice President and Chief Operating Officer.
About AIA
The AIA family of companies has been partnering with bail bond agents across the country for over a century. Formed in 2003 as an alliance of the surety bail industry's leading companies Allegheny Casualty, International Fidelity and Associated Bond (AIA) utilizes a unique "service- focused" approach to management, that provides its family of agents with the knowledge, tools and commitment they need to grow their business and succeed. With over 150 years of combined experience, AIA has become the overwhelming industry leader in agent service, national coverage, bail written and number of agents. For more information contact AIA Communications Department at (800) 935-2245, or visit http://www.aiasurety.com.
# # #