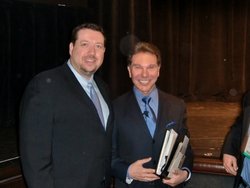 Having Jim Kukral on our agenda as a keynote speaker will surely help drive more attention for our event, we're excited to have him.
Cleveland, OH (PRWEB) February 24, 2010
Twice a year thousands of businesses and individuals attend the popular Affiliate Summit event to learn and network about how to create and promote a successful online business. This year Jim Kukral has been chosen to give the keynote speech. The event takes place in New York City – August 15-17, 2010.
"The Affiliate Summit event and industry continues to grow by leaps and bounds," said co-owner Shawn Collins. "The first 2010 event in Las Vegas earlier this year brought in over 4,000 attendees. Our second event in August 2010 looks to bring in the same amount or even more. Having Jim Kukral on our agenda as a keynote speaker will surely help drive more attention for our event, we're excited to have him."
Jim Kukral is a well-known online business marketing figure, author, award-winning blogger, professional speaker and Web business consultant. For almost 15-years, Jim Kukral has helped small businesses and large companies like Fedex, Sherwin Williams, Ernst & Young and Progressive Auto Insurance understand how to build successful new online businesses or energize and refresh existing ones.
"I'm excited to be part of a truly amazing event such as the Affiliate Summit," said Jim Kukral. "I plan on educating and motivating the audience about the power of attention-getting online marketing and how it can translate into more sales, leads and publicity."
To find out more about Jim Kukral or to book him for your event please visit Jim Kukral's speaking page.
About Jim Kukral
A graduate of The University of Akron with a BA in Public Relations and a minor in Sales & Marketing, Jim has spent time working with publicly traded firms and small businesses alike. Jim's work and experience in the Internet marketing industry has branded him as a leading thinker and thought-leader in the community.
He currently serves as a Certified Adjunct Professor for The University of San Francisco online where he teaches thousands of students how to harness the power of online marketing.
Jim is also the author of two new books to be published by Wiley Press. The first, called "Attention! This Book Will Make You Money", will be in bookstores in August 2010. The second book, called "The Ultimate Pitch", is scheduled to be released in 2011.
Today, Jim manages a successful small business consulting firm at Thebizwebcoach.com where he helps businesses find ways to skyrocket their sales, leads and publicity through the power of online marketing. You can find out about all of Jim's work and projects by visiting JimKukral.com
About Affiliate Summit
Affiliate Summit was founded by Missy Ward and Shawn Collins in 2003 for the purpose of providing educational sessions on the latest industry issues and fostering a productive networking environment for affiliate marketers.
The first Affiliate Summit took place in November 2003 in New York City. The goal was to differentiate from other conferences by focusing on content and networking. The first Affiliate Summit introduced Speed Networking, as well as an agenda heavy on the hot issues of the day in affiliate marketing.
To read more about the Affiliate Summit visit http://www.affiliatesummit.com/about
# # #