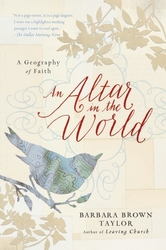 "Taylor is one of those rare people who truly can see the holy in everything. Since everyone should know such a person, those who don't can—no, must—read this book" —Publishers Weekly, starred review
San Francisco, CA (PRWEB) February 21, 2010
In her previous book Leaving Church ("a beautiful, absorbing memoir"—Dallas Morning News), Barbara Brown Taylor wrote about leaving full-time ministry to become a professor, a decision that stretched the boundaries of her faith. Now, in her lyrical follow-up An Altar In The World (February 2010; HarperOne; paperback), she shares how she learned to encounter God beyond the walls of any church.
From simple practices (walking, working, getting lost) to deep meditations (on prayer, giving blessings, and on having skin), each essay reveals meaningful ways to find the sacred in the small things we do and see. Through her expert guidance, we learn to live with purpose, pay attention, slow down, and revere the world we live in.
Taylor's delicate, thought-provoking prose will appeal to anyone seeking more meaning and spirituality in their everyday lives.
Barbara Brown Taylor's last book, Leaving Church, was met with widespread critical acclaim including the New York Times, USA Today, NPR's Fresh Air, and others. Taylor spent fifteen years in parish ministry and was named one of the twelve most effective preachers in the English-speaking world by Baylor University in 1996. She became a professor of religion at Piedmont College in 1998 and also teaches spirituality at Columbia Theological Seminary. Still a priest in the Episcopal Church, Taylor has traveled the world in pursuit of sacred wisdom, finding most of what she needed in her backyard. She lives on a working farm in rural north Georgia with her husband, Ed. Visit the author online at http://www.barbarabrowntaylor.com.
###