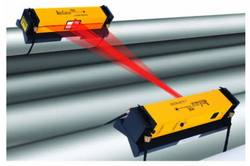 Richardson, TX (Vocus) February 23, 2010
The ROLLCHECK® MINI laser alignment system for parallel roll alignment is lightweight, compact and durable. It operates the same way as the regular RollCheck® but is smaller so it can fit into tighter places. The ROLLCHECK® MINI can measure spans up to 3 ft. (1 m) from roll to roll sizes up to 4" (101 mm) in diameter. The system comes with straps that can be used to attach it to the rolls.
The ROLLCHECK® MINI uses our proven, patented reflected-laser beam technology for maximum angular resolution, thus providing you with the most reliable and accurate visual reading. A laser line is projected from the ROLLCHECK® MINI transmitter to the reflector mounted on the roll to be checked or aligned. The laser line projected to the reference line on the reflector indicates immediately if the roll is aligned vertically to the stationary roll. The laser line is then automatically reflected back to the transmitter's reference line indicating if the rolls are parallel to one another. This system is very easy to use; a single person can perform the alignment task in minutes with no training! The ROLLCHECK® MINI comes in its own durable carrying case. To see how it works, click here and go to "View Demonstration" at the bottom of the webpage.
The ROLLCHECK® MINI can be purchased through our Rental Purchase Program so it can be tested before purchase. Ask us for details.
More about Seiffert Industrial, Inc: Seiffert Industrial specializes in precision laser alignment systems for the industrial and aerospace market and has been a leader in laser alignment since 1991. For more information about our pulley laser alignment and parallel roll alignment systems, please see our website at http://www.seiffertindustrial.com or call us at 800 856-0129 (US only) or 972 671-9465.
###