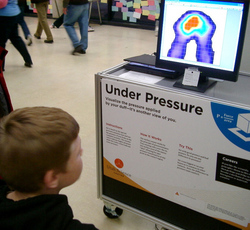 "This technology has great potential," says Jeffrey Stark, President of Sensor Products Inc. "It is gratifying to know we could use our sensor system to make body armor more comfortable for our soldiers."
Madison, NJ, USA (PRWEB) February 24, 2010
Interactive exhibits make learning science fun. One such exhibit, "Under Pressure," demonstrates how pressure between the body and a contacting object – such as a chair – can create pressure points and strain. Sensor Products Inc., an innovator in the field, donated their Tactilus® Body Mapping Pressure System to The Leonardo Museum, which is showing the exhibit at schools and libraries. Joe Andrade, the exhibit developer and a Professor of Bioengineering at the University of Utah, integrated it into a portable kiosk that teaches children and adults about pressure body mapping.
"The kids and adults really love it," says Andrade. "They chuckle and can't wait to sit on the pressure pad and see their body maps. Meanwhile, they are learning about science and technology."
In pressure body mapping, sensors collect data from the force exerted by the human body as it touches another surface. This data is then converted into color-coded body maps that correspond to different degrees of pressure. Armed with this knowledge, designers and engineers can modify their products to produce more even distributions of pressure. By taking the load off areas with red hot spots, the locations of greatest pressure, products become more comfortable and ergonomic.
Uses for body mapping are evolving – Mattresses are being customized for different body types; plastic bottles are being modified so that they are easier to squeeze; and body armor is being redesigned to reduce sore spots on soldiers in Afghanistan.
"Armor and equipment, often called battle rattle, can weigh as much as 60 lbs," says Jeffrey Stark, President of Sensor Products Inc. "Soldiers wear many components on their bodies, such as rifles, ammunition, backpacks, water, and other supplies. If the load isn't optimally distributed, it can cause strain and compromise their ability to maneuver. We are pleased that our technology is improving the comfort and tactical effectiveness of our soldiers."
About The Leonardo
The Leonardo is a science, technology and art center fostering creativity and innovation in young people and adults. Located in Salt Lake City, Utah (USA) The Leonardo debuts on da Vinci's birthday – April 15, 2011. Funding for "Under Pressure" is provided by the foundations of the Society of Plastics Engineers (SPE) and the Utah Science Center. Info on The Leonardo can be found at http://www.theleonardo.org.
For more information about body mapping, visit http://www.sensorprod.com or email
About Sensor Products Inc.
Established in 1990 and headquartered in New Jersey (USA), Sensor Products Inc. is a world leader in the manufacture and distribution of tactile pressure sensing solutions. Their customized and off-the-shelf products are installed within all of the Fortune 500 industrial companies as well as thousands of smaller manufacturing firms. Their sensors are used in applications as diverse as tire testing to semiconductor manufacturing and from R&D labs to space missions. Additionally, Sensor Products provides in-house and on-site stress and pressure mapping analysis, as well as a variety of technical seminars.
###