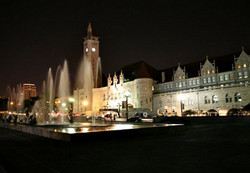 Saint Louis, MO (PRWEB) February 21, 2010
Although the hustle and bustle of the holiday season kept the St. Louis Union Station Marriott busy as rooms filled with guests who were attending holiday events, finishing their holiday shopping in downtown St. Louis or taking in other end of the year activities and sporting events, this fine luxury hotel near St. Louis University didn't forget to share with others during the busy holiday season.
Realizing the importance of supporting local charitable events, the hotel extended its reach to help in providing social services for projects that return support to St. Louis area residents. Organizations receiving support from the hotel during December included Project Ark and the Demetrius Johnson Charitable Foundation.
In support of Project ARK, the St. Louis University hotel stepped forward in providing social services to the organization including free space, reduced food and beverage, discounted parking and early load-in for project activities. Project ARK provides services that enhance the lives of children, youth, young adults, women and families infected, affected and at risk for HIV disease through coordination of medical care, social support and prevention services. Project Ark is the only organization to specifically provide these services for residents in and around the St. Louis metropolitan area.
Known as one of the most historical and prestigious hotels in downtown Saint Louis, Missouri, the St. Louis Union Station Marriott also reached out to help in hosting the Demetrious Johnson Christmas Wish List "Christmas Wish Party," a premiere event for the Demetrius Johnson Charitable Foundation. In support of this foundation event, the hotel provided free space, complimentary labor and early load-in for the event. The Demetrius Johnson Charitable Foundation helps better the lives of inner-city youth by providing mentoring, financial, vocational and other programs. As a direct result of the "Christmas Wish Party" thousands of children and families are provided with an opportunity to celebrate the Christmas holidays in ways they may not otherwise experience. "Helping today's youth towards a better tomorrow" is the foundation's motto as it strives to fulfill its mission through ongoing events and programs.
Located at the historical Union Station, the St. Louis Union Station Marriott is surrounded by the landmark's elegant architectural design and Old World charm, making it one of the most stylish of Saint Louis downtown hotels. With the Scottrade Center and Busch Stadium both within walking distance; and America's Convention Center, the Gateway Arch, Missouri Botanical Gardens and the St. Louis Zoo just a few minutes away, the hotel provides an ideal location for both business and pleasure. With all of its historical glory, the St. Louis Union Station Marriott provides guests with not just an overnight stay, but an adventure into the history of downtown St. Louis and the romantic days of rail travel along with great shopping and dining experiences.
###