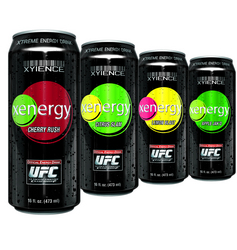 We had a tremendous turn-out for our last model search and we anticipate another great response.
Las Vegas (Vocus) February 23, 2010
The search is on in Las Vegas --XYIENCE is looking for the face of its new energy drink, Xenergy Xtreme. The XYIENCE model search will be held on Wednesday, March 24 from 11:00 a.m. to 4:00 p.m. at Blue Martini, located in Las Vegas' Town Square (6593 Las Vegas Blvd. South, Bldg L B214). Women interested in participating should book an appointment in advance by emailing.
Interview appointments will be booked on a first-come, first-served basis; walk-ins are welcome, though interviews cannot be guaranteed. No previous modeling experience is necessary; candidates must be at least 21 years of age, have a valid driver's license, and be a resident of the Las Vegas Valley area. Resumes detailing relevant work experience, headshots, and portfolio samples are suggested. XYIENCE is the official energy drink of the Ultimate Fighting Championship (UFC); thus, a basic understanding of mixed martial arts is helpful, but not required.
The new XYIENCE Xenergy Xtreme model will participate in beverage samplings at retail locations and UFC events, and will attend XYIENCE special events. She will also appear on the XYIENCE website, as well as in promotional materials for Xenergy Xtreme. Candidates should be outgoing, have positive attitude, be a team player and comfortable speaking in front of large groups of people.
"Now with two energy drinks in our line –Xenergy Premium and Xenergy Xtreme, its important that each drink have model whose images reflects its unique qualities," explained Jessica Lautman-Hughes, XYIENCE senior marketing specialist. Lautman-Hughes oversees the company's team of brand ambassadors, such as former UFC octagon girl and spokesmodel, Amber Nichole Miller, whose image is used in conjunction with Xenergy Premium. She stressed the importance of prospective models booking an appointment in advance, explaining, "We had a tremendous turn-out for our last model search and we anticipate another great response."
Through televised broadcasts of UFC events, the XYIENCE brand reaches some 100 million-television households in North America. As a part of XYIENCE's UFC sponsorship relationship, its logo receives prime positioning on the mat and bumpers of the octagon. This often results in a fight's critical moments taking place on or next to the XYIENCE and Xenergy logos, and translates into millions of viewer impressions for XYIENCE. Internationally, XYIENCE reaches more than 420 million television households via UFC broadcasts and Pay-Per-View broadcasts.
About XYIENCE
XYIENCE nutritional products provide clean, sustainable energy necessary for an active lifestyle. Established in Las Vegas in 2004, XYIENCE is one of the fastest-growing brands in its category. All products are held to the most stringent standards of excellence to enable professional and amateur athletes and fitness enthusiasts to reach their goals in training and life.
Xenergy (A combination of Zen and Energy, pronounced "Zen-ergy")
XYIENCE supports the mixed martial arts lifestyle. Its energy drink, Xenergy, and its energy shot, X Shot, are the official energy drink and energy shot of the Ultimate Fighting Championship (UFC). The first energy drink created by a nutrition company, Xenergy has zero calories and is a sugar-free drink fortified with vitamins. All-natural flavors provide a consistent supply of energy, sans the "crash" inherent with most other energy drink brands. Xenergy Premium Energy flavors include Cherry Lime, Cran Razz, Mango Guava and Blu Pom. Xenergy Xtreme Energy flavors include Lemon Blast, Citrus Slam, Cherry Rush and Apple Jak'd. Xenergy is available in retail stores throughout the United States and Canada. Visit http://www.xyience.com for details.
XYIENCE Supplements
XYIENCE supplements provide ultimate nutrition for peak performance. With everything from NOX-V2—for increasing strength and stamina and aiding in post-exercise recovery—to high-quality protein supplements such as the XY-PRO, an advanced protein complex or the XM2 muscle meal, XYIENCE offers products scientifically formulated for specific training needs.
###