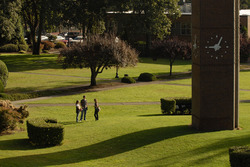 Newberg, Ore. (Vocus) February 22, 2010
Parents of George Fox University students will gather in seven locations in three different states on Saturday, March 13, for the university's annual Parents Day of Prayer.
Parents will meet between 9 a.m. and noon in the Cap and Gown Room in the Student Union Building on the Newberg campus to pray together. Prayer requests are for students, faculty, administration and alumni.
Parents unable to be in Newberg can still pray for their students in private homes. Parents are hosting corporate prayer time in Grants Pass, Bend, Eugene, and Klamath Falls, Ore., in Vancouver and Seattle/Tacoma, Wash., and in Diablo, Calif.
To contact your hosts at the regional sites, visit georgefox.edu/parents, go to "Events," and click on the link to Parents Day of Prayer.
If parents cannot attend on campus or at a regional site but still want to pray on their own, they can call Amy Lorenz at 503-554-2114 to receive a complete list of prayer requests.
The idea for a parents day of prayer was instituted 11 years ago at a parent council meeting. Several members saw a need to support teachers, students, staff, and families through prayer.
George Fox University is ranked by Forbes as one of the top 100 colleges in America and highest among Christian colleges. George Fox is the only university in the Pacific Northwest classified by U.S. News and World Report as a national university. More than 3,300 students attend classes on the university's campus in Newberg, Ore., and at teaching centers in Portland, Salem, and Redmond, Ore., and in Boise, Idaho. George Fox offers bachelors degrees in more than 40 majors, degree-completion programs for working adults, five seminary degrees, and 12 master's and doctoral degrees.
Contact:
Sheri Philips
Executive Director of University Relations
503-554-2114
# # #