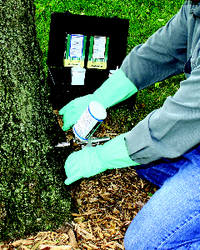 This treatment has been credited with the survival and recovery of thousands of Ash trees since 2001 and has been documented by Michigan State University as seen on www.TreeResearch.org
Omaha, NE (Vocus) February 23, 2010
ArborSystems announced today improvements in their Wedgle Direct-Inject Tree Treatment System for delivering nutrients and insecticides and that all of the hardware components are now made in the United States.
"We improved production time, enhanced quality control and created new jobs at our plant in Omaha," said Chip Doolittle, president of ArborSystems in Omaha, NE. "In addition to being beneficial to the economy, these changes will allow us to continue investing in the future to make our products better."
ArborSystems' Wedgle Direct-Inject Tree Treatment System is the only trunk injection application method that does not require a drilled hole as highlighted in the Integrated Pest Management (IPM) of Midwest Landscapes manual. Their system uses a needle-like injection tip that is pushed through the bark. Arborists and consumers should avoid using other trunk injection methods that involve drilling holes in the tree as part of the application process as that can permanently damage a tree's ability to move and store water and other nutrients. The no-drill method is similar to getting a small scratch or vaccine that heals quickly versus drilling which is comparable to a cut that requires stitches and can be prone to infections. The Wedgle Direct-Inject Tree Treatment System delivers chemicals directly inside the tree at a known dose rate with virtually no environmental exposure.
"We are proud that every Wedgle Direct-Inject Tree Treatment System is now completely designed and manufactured in the United States," said Doolittle. "We worked hard to improve the Wedgle and use components made entirely in the United States."
ArborSystems is best known for their Emerald Ash Borer treatment using Pointer, an Imidacloprid product for up to two-year control, and the Direct-Inject no-drill treatment system, an easy, fast, and tree-friendly way to treat almost any tree in five minutes or less. "This treatment has been credited with the survival and recovery of thousands of Ash trees since 2001 and has been documented by Michigan State University as seen on http://www.TreeResearch.org ," said Doolittle. In addition to no drilling damage, there is no exposure risk as associated with spraying, soil injections or drenching. Pointer Insecticide should only be applied by trained tree care professionals.
ArborSystems provides a variety of tree injection systems and insecticides, fungicides, nutrients and tree growth regulators designed to meet a broad range of tree care needs. The original Wedgle Direct-Inject Tree Treatment System was introduced in the mid 1990s. For more information, visit http://www.ArborSystems.com.
# # #