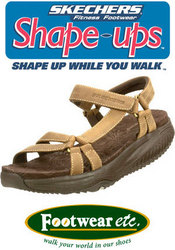 Sales have been soaring since the release of Skechers Shape-Ups
Sunnyvale, CA (Vocus) February 22, 2010
Footwear etc., a well-established retailer of high quality, comfort footwear for over 24 years, today introduces the first line of Skechers Shape Ups sandals to be released in May 2010, available now for pre-order. The new spring arrivals also include the latest styles from the highly sought-after Shape-Ups fitness shoes, available online now and in Footwear etc. retail stores.
"Sales have been soaring since the release of Skechers Shape-Ups," says Andrew Monarch, District Manager for Footwear etc. "We are proud to be one of the first retailers to offer the newest styles from Skechers Shape-Ups."
'Shape Ups' is the new fitness footwear line from Skechers, the global lifestyle shoe manufacturer. Designed to simulate walking barefoot on uneven surfaces such as sand, Shape-Ups help you tone your muscles, lose weight, and improve circulation. They feature a unique soft kinetic wedge insert that absorbs shock and a dynamic rolling bottom that naturally rolls your feet forward, shifting your weight to the center and allowing for your toes to easily push off the ground. Shape-Ups combine the stylish features of Sketchers athletic lifestyle shoes with the latest fitness technology allowing you to get in shape just from walking.
Following the highly successful Shape Ups shoes, the new line of Shape-Ups sandals expertly combines the same health and fitness benefits of the popular Shape-Ups shoes into a stylish fitness sandal.
The Shape-Ups Sandals are available for pre-order in four trendy styles:
-Skechers Shape-Ups 'Electrified' – available in two electrifying colors: purple and silver
-Skechers Shape-Ups 'Dash' –available in Black and Gaucho Crazy Horse Leather
-Skechers Shape-Ups 'Omega' – available in Olive Leather and Red Brick Leather
-Skechers Shape-Ups 'Strolling' – available in Black Leather and Gaucho Crazy Horse Leather
With more and more people canceling their gym memberships, fitness footwear has become increasingly popular among men and women all over the nation. Not just a fashion fad, wearing Shape-Ups regularly can help tone and strengthen legs, buttocks, back and core muscles. During a 6-week clinical trial, Skechers reported that women wearing Shape-ups for their normal daily activities and walking program, lost an average of 3.25 pounds and reduced body fat by an average of 1.125%. Plus, there was an average increase of 41% in butt muscles and 37% in lower back strength.
Visit http://www.footwearetc.com to check out the latest Shape-Ups shoes and to reserve a pair of hot new sandals for the Spring.
About Footwear etc.
Footwear etc. is a well-established, family-owned business, headquartered in Silicon Valley, CA since 1986. The company is committed to improving customers' quality of life by offering brand name products that demonstrate their belief in the need for healthful, comfortable and fashionable footwear. Footwear etc. operates eight retail stores located throughout the Bay Area and also offers their products on their website and catalog. To find out more, please visit http://www.footwearetc.com.
# # #