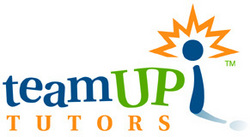 If there is a formula for success, it's really straightforward: start out by genuinely caring about helping students.
Los Gatos, CA (PRWEB) February 23, 2010
"Over the years, our students have learned, but then again, so have we," quipped TeamUP! Tutors founder Leon Baranovsky as the company embarked upon its seventh year in business. The in-home tutoring company has steadily expanded since he and partner Deb Kohnstamm hired their first tutor in early 2004. Along the way the team has also honed their formula for student success. The secret is... there is no formula.
While the company has streamlined internal processes over the years, its core values of putting students first and matching learners with top-notch tutors have remained constant. "These standards have worked so well that I suppose you could consider helping one student at a time our formula," says Baranovsky. "But since we tailor our program to an individual student's learning needs, and our staff stands by families every step along the way to academic success, we simply call it a partnership."
In 2007, TeamUP! Tutors introduced the Managed Tutoring System(sm), a free program that ensures identification of a student's exact learning needs, development of a goal-driven education plan, hand-selection of the ideal educator, and methodical progress monitoring. This system allows tutors to deliver on-target, distraction-free tutoring with 100% of time and effort going to help the student achieve his or her full academic potential.
The company's protocol is supported by the latest education research, like that found in _The Tutoring Revolution: Applying Research for Best Practices, Policy Implications, and Student Achievement_ by Edward E. Gordon, et al. These authors reviewed over 4,000 studies on tutoring spanning 30 years and concluded that tutoring conducted in the student's home yielded the best results over time. The authors go on to point out that, "Tutoring at the student's home often maximizes long-term student achievement."
Evidence of these findings is noted by TeamUP! Tutors on a daily basis. As a client from Pleasanton, California so aptly put it, "The tutoring could not have gone better. There is a big smile on my son's face, he feels confident about taking the next test, and it's rubbing off onto other subjects."
Perhaps the most unexpected change the company has made since 2004 is serving as an education-news conduit. "Our clients want their children positioned to succeed in school and in life, and frequently ask for any guidance we can provide," says Baranovsky, revealing "We're accidental bloggers." The company's blog and newsletter deliver timely education news -- from SAT scores and college admissions to reading comprehension, math challenges, and study skills -- that parents can put to immediate use on the home front.
Over the years, Baranovsky has seen tutoring establishments enter and leave the market. While the initial investment to start a tutoring company is relatively low, he notes that success is dependent on long-term investment and going the extra mile to help each student succeed. Companies that fail to do what's in the student's best interest, skimp on tutor quality, or use cookie-cutter solutions don't last long. Other warning signs include registration fees, inflexible contracts, in-house assessments, and promises that sound "too good to be true." As for the exploding number of online and self-matching services, due diligence is advised to ensure educational experts are advocating for the student and overseeing progress.
"Student success and tutoring company success are tied tightly together," points out Baranovsky. "If there is a formula for success, it's really straightforward: start out by genuinely caring about helping students. After that, just do the right thing."
Since 2004, TeamUP! Tutors, Inc., has connected students of all abilities with professional tutors for one-on-one, in-home tutoring. The company helps students improve grades, build confidence, sharpen study skills, and increase SAT scores. Professional tutors focus on well-defined objectives and tailor instruction to student needs. For more information call toll-free 888.3.TEAMUP (888.383.2687) or visit http://www.teamuptutors.com.
###