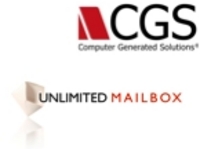 We are pleased to bring this exciting new cloud service to the education market
New York (Vocus) February 26, 2010
Computer Generated Solutions Inc. (CGS) announces general availability of a new cloud-based version of its popular Unlimited Mailbox™ email archiving and e-discovery solution. The new cloud service is integrated with the Microsoft®-hosted Business Productivity Online Suite (BPOS), a set of online messaging (Microsoft® Exchange Online) and collaboration applications that provide organizations of any size with an alternative to traditional on-premise software deployments. Unlimited Mailbox™ for Microsoft® BPOS is designed specifically for primary and secondary public education organizations.
"We are pleased to bring this exciting new cloud service to the education market," stated Michael Wilding, senior vice president of technology and solutions for Unlimited Mailbox. "In addition to their need for secure and cost-effective communication and collaboration, these organizations are subject to public record regulations that require robust email archiving and e-discovery capabilities. Unlimited Mailbox for Microsoft® BPOS gives these organizations the power and freedom they need to address these needs while significantly reducing IT and administrative costs and complexity."
Unlimited Mailbox™ provides automated message archiving, on-demand access, fast and easy retrieval, automatic backup and recovery solutions. The software leverages high performance text search engine tools to enable quick and comprehensive record searches. A full featured e-discovery system provides redaction, classification and workflow capabilities along with built-in alerts. Unlimited Mailbox™ can import personal file stores (e.g. Microsoft® Office Outlook .PST files) and export select messages in a variety of file formats for immediate transfer to specified in-house or external persons.
To simplify computing infrastructure, Unlimited Mailbox™ requires no code, APIs or DLLs required on desktop client computers. A single instance of Unlimited Mailbox™ can be used on both the hosted Microsoft® BPOS and an on-premise Microsoft® Exchange Server implementation.
About CGS
For twenty-five years, CGS has enabled global enterprises, regional companies and government agencies to drive breakthrough performance through technology. With global delivery capabilities, expertise across leading platforms and deep experience in multiple industries, CGS has become the IT partner of choice for thousands of organizations worldwide. CGS delivers a wide array of proprietary and third-party business applications, technology and business services, outsourcing solutions and learning & communications platforms. Headquartered in New York City, CGS maintains a worldwide presence with 20 offices in North America, Europe and Asia. For more information please visit http://www.cgsinc.com.
For more information on the Unlimited Mailbox™ solution, please visit http://www.unlimitedmailbox.com.
Unlimited Mailbox™ is a trademark of Computer Generated Solutions, Inc.
Microsoft and Outlook are registered trademarks of Microsoft Corporation in the United States and/or other countries.
###