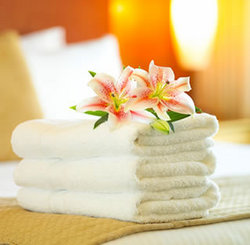 I am a very busy man and NEVER take the time to write to a company about their product, but I was so impressed and pleased with the results of the Room Shocker that I have turned all my real estate friends on to this product. Thank you again."
West Hills, CA (PRWEB) February 22, 2010
Biocide Systems is pleased to announce that recent multi-facility tests by one of its largest Casino-Hotel clients confirms that the roomSHOCKER from Biocide Systems is the best solution for hotels and motels, significantly outperforming industry-standard ozone generator technology in removing hotel room odors from cigarette smoke and other organic sources.
Biocide Systems' client, a large multi-facility casino-hotel chain with operations in multiple states, reported that in head-to-head tests that "…the roomSHOCKER makes a significant difference in eliminating the smoke smell in hotel rooms versus using the ozone machine....The ozone machine is not as effective as the room shocker."
"This is great news!" states Biocide Systems CEO Juan Baselli, "We've been saying for years now that our roomSHOCKER is not only more cost-effective than other treatments, but that it just plain out-performs them in a side-by-side test."
And there is more to the story. Not only is roomSHOCKER easy on maintenance and facility budgets, but in addition to removing cigarette odors from hotel rooms, it also disinfects and kills mold, bacteria and microbes from the room as well.
"For many of our hotel and motel clients it is now not only an air-quality issue, but is also becoming a health issue, given the H1N1 and what we're learning about the risks from third-hand smoke." says Biocide Systems VP of Product Technology, Spencer Blua.
Lingering smoke smells have always been an annoyance to hoteliers and the lodging industry as a whole, but studies now suggest these smoke smells are also toxic. This hidden health hazard, dubbed Third-Hand Smoke by researchers at Mass General Hospital for Children in Boston, lingers long after a cigarette has been extinguished.
"The dangers of third-hand smoke are very real," said Dr. Jonathon Winickoff, assistant professor at Harvard Medical School and lead author of a third-hand smoke study recently published in the journal Pediatrics.
If left unchecked, the poisonous toxins and metals found in cigarette smoke residue will bleed into surrounding surfaces and, over time, be released back into the air. "Your nose isn't lying," Winickoff said of lingering smoke dangers. "The stuff is so toxic that your brain is telling you: 'Get away.'"
Biocide's roomSHOCKER is designed to chemically eliminate smoke smell and neutralize most of the volatile organic chemicals (VOCs) and free radicals that pose a health hazard. "Masking smoke odor with scented sprays will not protect your guests from the chemicals in third-hand smoke. Ozone generators aren't much better." Baselli adds.
Whether eliminating cigarette odors or removing hotel room odor from mold, garbage, vomit, liquor, pet odors or musty smells, roomSHOCKER will get the job done within just a few hours and for under $25.
If you are ready to remove hotel room odor using a cost-effective and environmentally friendly product, it is time to give roomSHOCKER a try.
About Biocide Systems
Biocide Systems is located in Los Angeles, California. Biocide Systems serves the hotel, motel and lodging industries with high-technology deodorizing and disinfecting solutions. All Biocide products mentioned here are EPA (Environmental Protection Agency) approved and are 100% guaranteed.
To learn more about Biocide Systems and our smoke and odor elimination products, please visit http://www.BiocideSystems.com or call (877) RX-BIOCIDE. To interview Juan Baselli, contact him directly at: (877)792-4624 ext 3.
###