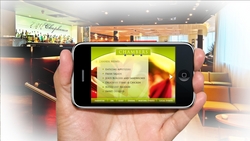 InView Mobile represents a revolution in how mobile users view and interact with content delivered via Digital Out Of Home (DOOH) technologies
Plano, TX (PRWEB) February 23, 2010
Symon Communications, a global provider of visual communication and digital signage solutions, announced today that its InView Mobile smartphone application has been chosen as a recipient of the 2009 Product of the Year Award by Technology Marketing Corporation's (TMC®) Internet Telephony magazine.
Symon's InView Mobile product is a line of media players that run on the new breed of smartphones that are capable of receiving and delivering location-based, interactive, multi-media digital content. InView Mobile was created to enhance a user's mobile experience by providing them with content that is relevant to their current location. InView Mobile was also created to augment and extend content that is delivered to digital signage so that the digital signage viewing experience becomes more interactive, measurable and rich.
"InView Mobile represents a revolution in how mobile users view and interact with content delivered via Digital Out Of Home (DOOH) technologies," said Charles Ansley, Symon's CEO and President. "Digital signage and mobile technologies are converging rapidly and we are excited to be on the forefront of this new, fast moving trend. We invite those interested in learning more about mobile/digital signage convergence to download our free white paper at http://mobile.symon.com."
"INTERNET TELEPHONY is proud to grant Symon a 2009 Product of the Year Award for their InView Mobile product. Symon has proven its commitment to quality and excellence while addressing real needs in the marketplace," said Rich Tehrani, CEO, TMC. "We're happy to recognize and honor Symon for their development of IP communications technology. We look forward to more innovative solutions from them in the future."
A complete list of Product of the Year winners is published in the February 2010 issue of INTERNET TELEPHONY magazine, (http://www.itmag.com). INTERNET TELEPHONY has been the authority in IP communication since 1998™.
For more information about TMC, please visit http://www.tmcnet.com.
About Symon Communications, Inc.
Symon Communications is a leading global provider of award-winning in-venue visual communications solutions. Symon is proud to boast a 30 year history of profitably serving over seventy-five hundred clients, which includes nearly 80 percent of the Fortune 100 and almost 70 percent of the Fortune 500.
Symon's advantage lies within its operating model, which offers customers a single point of accountability for all visual communication implementations along with a state-of-the-art, fully-integrated and proven content management system. Symon's value proposition is centered on providing clients with a visual communications solution that will inform, entertain and/or positively influence a viewer's behavior.
Headquartered in Plano, Texas, Symon's US offices manage sales and support of clients and prospects located throughout the Americas. Symon's European subsidiary, SymonDacon, manages sales and support of clients and prospects throughout the EMEA region. SymonDacon's headquarters are located in Hemel Hempstead, UK.
About INTERNET TELEPHONY magazine
INTERNET TELEPHONY has been the IP Communications Authority since 1998™. Beginning with the first issue in February of 1998, INTERNET TELEPHONY magazine has been providing unbiased views of the complicated converged communications space. INTERNET TELEPHONY offers rich content from solutions-focused editorial content to reviews on products and services from TMC Labs. INTERNET TELEPHONY magazine reaches more than 225,000 readers, including pass-along readers. For more information, please visit http://www.itmag.com.
About TMC
Technology Marketing Corporation (TMC) is a global integrated media company helping our clients build communities in print, in person and online. TMC publishes Customer Interaction Solutions, INTERNET TELEPHONY, Unified Communications, and NGN magazines. TMCnet, TMC's Web site, is the leading source of news and articles for the communications and technology industries. TMCnet is read by two million unique visitors each month on average worldwide, according to Webtrends. TMCnet has ranked within the top 3,500 in Quantcast's Top U.S. sites, placing TMCnet in the nation's top .03% most visited Web sites. In addition, TMC produces INTERNET TELEPHONY Conference & EXPO (ITEXPO); 4GWE Conference and M2M Evolution (in conjunction with Crossfire Media); Digium|Asterisk World (in conjunction with Digium); and Smart Grid Summit (in conjunction with Intelligent Communication Partners). For more information about TMC, visit http://tmcnet.com/.
TMC also serves technology professionals with industry-specific Web sites: IT.TMCnet.com, 4G-wirelessevolution.TMCnet.com, M2M Evolution.com, Smart-Grid.TMCnet.com, Smart Products Ecosystem, Robotics.TMCnet.com, Cable.TMCnet.com, Satellite.TMCnet.com, Green.TMCnet.com, Healthcare.TMCnet.com, and Education.TMCnet.com.
For more information about TMC, visit http://www.tmcnet.com
###